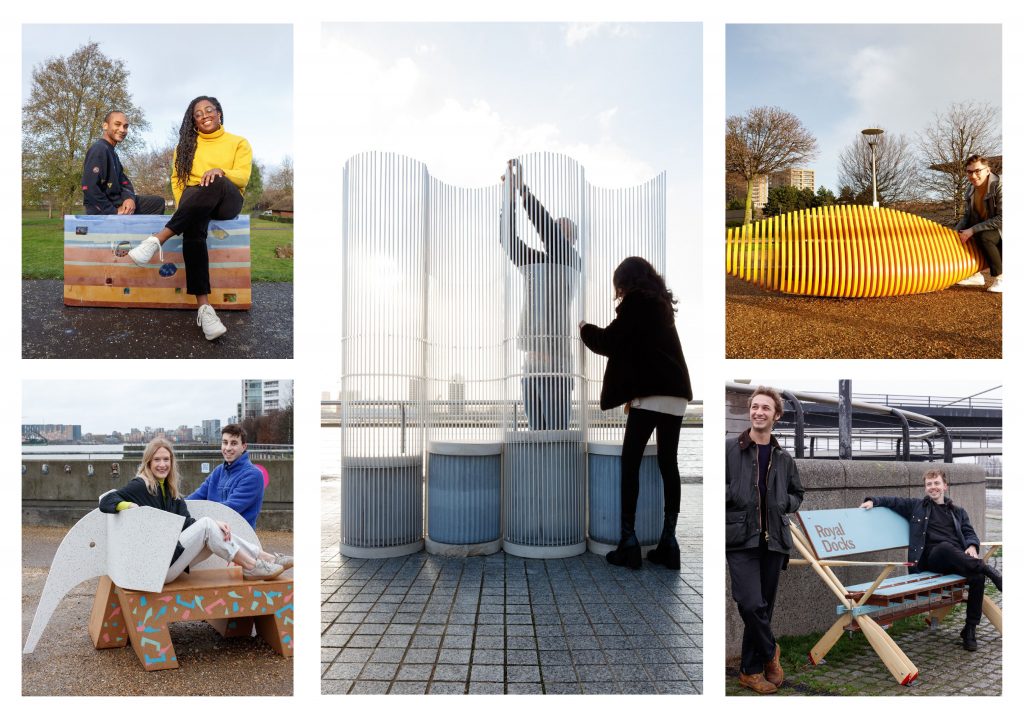 Past winners of Pews and Perches competition © Luke O'Donovan
The London Festival of Architecture (LFA) and the Royal Docks Team (RDT) have launched the third edition of the Pews and Perches design competition, which will see a series of bespoke public benches delivered throughout the Royal Docks this year.
Following the success of the previous years, the competition is open to architecture and design students, recent graduates and emerging practitioners, inviting them to deliver playful and creative bench proposals that celebrate and transform the Royal Docks as a place to sit, rest and play. Now in its third year, the Pews and Perches competition highlights the transformative impact of small-scale interventions in the public realm and offers visitors and residents alike unique spaces to sit and make the most of their surrounding public space.
Once London's gateway to world trade, today the Royal Docks is one of the UK's most important regeneration stories. This vast area in the London Borough of Newham is re-emerging as a commercial and cultural hub of global significance, and an exciting new waterfront.
Designers are asked to respond to this year's LFA theme of 'act', creating a bench that actively engages its users and visitors whilst the bench is in situ. After such a long time of enforced passivity, the imperative to act is felt by many, while the pandemic has exposed so many things that need to change. How, for instance, should architecture act in the face of the climate emergency, social injustice, and the needs of a changing society? How can architects make their actions felt beyond their profession – how can they be heard more clearly, become more valued or collaborate more meaningfully?
A variety of locations across the Royal Docks have been selected for the 2022 Pews and Perches. Below are the areas where there is significant scope for public realm enhancement or seating provision:
Royal Victoria Dock Floating Garden
ExCeL Dock edge*
Thames Barrier Park
Connaught Crossing (South Side)
London Design & Engineering UTC College
*dependant on landowners' approvals.
Interested applicants are invited to submit their proposal by midday on Tuesday 5 April via the online form here. The winners will each be awarded £2,300, including a design fee of £500 to develop, build and install their bench in summer 2022. Each bench will stay in place until at least summer 2023.
Rosa Rogina, Director of the London Festival of Architecture, said: "We're thrilled to be working once again with the Royal Docks on the Pews and Perches competition. The project will not only make a positive contribution to the public realm, but also celebrate the Royal Docks, which this year form part of the LFA Destinations. The LFA's mission is to democratise architecture and discover new talent, and we're very grateful to the Royal Docks for sharing that vision."
A spokesperson from the Royal Docks said: "We are delighted to be working for a third successive year with the London Festival of Architecture on the 'Pews and Perches' bench competition. The looks and feel of a place are reflected in how it is enjoyed. Over the last few years, we have worked hard with talented architects and designers to shape the Royal Docks making it a place where people can work, rest and play. Our focus has been to develop and deliver public spaces focusing on health, relaxation, and wellbeing. We hope that these emerging architects designed benches will benefit residents and visitors alike, providing them with a safe place to sit, relax and enjoy the unique waterside views that the Royal Docks provides."