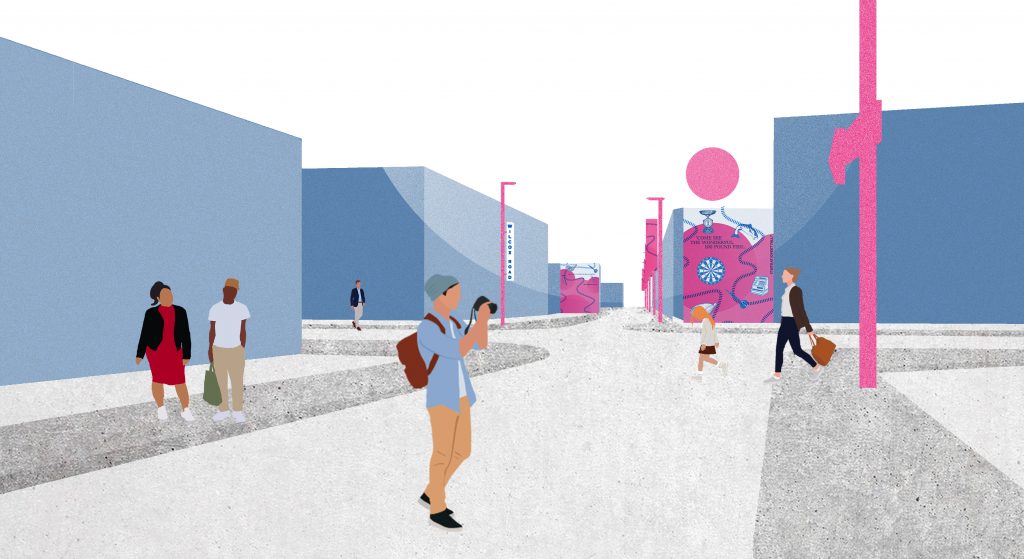 Shine a light on Wilcox Road by NOOMA Studio
London-based design and architecture practice, NOOMA Studio, are the winners of Wilcox Road Gateway, a design competition organised by the London Festival of Architecture (LFA) and the Neighbourhood Regeneration Team at Lambeth Council. With their winning scheme Shine a light on Wilcox Road, NOOMA Studio aims to revive a once thriving market street through distinctive branding that gives a nod to the lost tradition of craft and interactivity on British high streets.
Emerging architects, designers, artists were invited to submit a proposal for a public realm installation that animates Wilcox Road in Lambeth and transforms it into a welcoming gateway from the newly opened Nine Elms Tube Station. Wilcox Road Gateway competition open call attracted an exciting selection of entries from a range of design disciplines.
Shortlisted practices included: Anny Stephanou, Anna Muzychak and Patricia Mato-Mora; Embed x CarsonSall; MOST Architecture with Urban Growth and The Remakery; and Ten Tectons + EH Smith
Each shortlisted team offered a unique response to the competition brief, demonstrating ambition and emphasising the importance of local community engagement when tackling our city's public spaces. The proposals capitalised on the proximity and footfall of the new Nine Elms Tube Station and sought to strengthen links, connectivity, and wayfinding, particularly the East-West link into Nine Elms via Arch42, and through to South Lambeth Road.
NOOMA Studio's winning scheme, Shine a light on Wilcox Road, features a kit of parts that elevates the crafts, trades, and culture that Wilcox Road has to offer, reinvigorating a once essential community asset in this Lambeth neighbourhood. Playful yet practical, the scheme utilises existing street furniture to reduce unnecessary street clutter.
Approaching from South Lambeth Road, visitors will be welcomed by a narrative trail that leads them to discover Wilcox Road. Flags showcase trade and businesses above the parked cars, and bright murals will make Wilcox Road visible from the approach from Arch 42.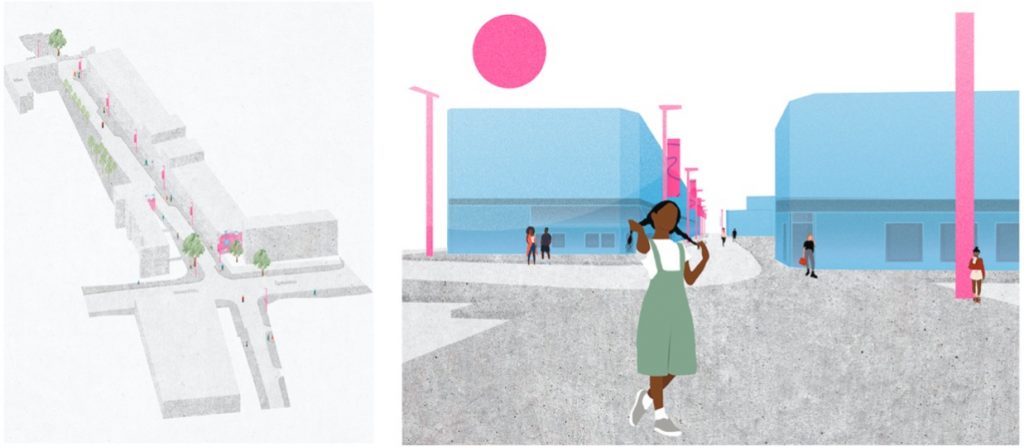 Shine a light on Wilcox Road by NOOMA Studio
Wilcox Road is home to a mix of establishments, including retail, hospitality, construction, personal care, as well as residential homes. Several of the businesses provide a focus for the local Portuguese community. As part of their approach to the project, NOOMA Studio investigated the history of the road as a vibrant marketplace and will be making use of engaging and beautifully crafted shop signs that honour the area's past. Shine a light on Wilcox Road also creates a characterful and interactive streetscape, looking back at the historical ornate lamps, typography, signage datum line and vibrant fonts. Interactive elements will punctuate the street, such as lamp posts, gateway illumination and banners.

From left to right: lamp posts, illuminated gateway, indicative banner designs © NOOMA Studio
Banner graphics will be co-designed with the retailers of Wilcox Road. Iconography will be devised to represent their businesses.
Shine a light on Wilcox Road is based on four essential design principles:
Limiting street clutter
Capitalise on existing infrastructure
Legacy of rotating murals by local artists
Creating a narrative trail that connects Arch42 to South Lambeth Road
NOOMA Studio has now been awarded £65,000 + VAT (which includes a £10,000 design fee) to develop a fully costed, feasible design that can be delivered over the coming months
The competition was judged by:
Rosa Rogina, Director, London Festival of Architecture (Chair)
Jess Roycroft, Neighbourhood Regeneration Officer, London Borough of Lambeth
Vicky Long, Cultural Development Manager, London Borough of Lambeth
Lucy Annan, Chair, Stockwell Partnership
Seth Scafe-Smith, Director and Programme Lead, Resolve Collective
Ramsey Yassa, Founding Director of NOOMA Studio, said: "Places like Wilcox Road are dear to our hearts at NOOMA Studio. As a studio, we have developed an approach and methodology that reinvigorates high streets with a sense of identity and civic pride, addressing the very real needs of the users and occupiers of these places. We are looking forward to working alongside the communities of Stockwell and Vauxhall, Lambeth Council and the London Festival of Architecture to shine a new light on Wilcox Road".
Cllr Donatus Anyanwu, Cabinet Member for Stronger Communities, Leisure and Sports, said: "I would like to congratulate NOOMA Studio for their winning design that will showcase the character of Wilcox Road. NOOMA Studio's winning design takes inspiration from the area's rich history, and I am sure it will be enjoyed for many years to come."
Rosa Rogina, Director of London Festival of Architecture, said: "We're thrilled to be working with NOOMA Studio and Lambeth Council on this exciting competition. Communities are at the core of the LFA, and we don't only celebrate buildings, but also the in-between spaces and the people who use them. We are confident that NOOMA Studio's scheme will generate long-lasting positive change to the public realm and deliver a significant legacy to the local community, supporting local businesses and bringing back to life the historical spirit of the outdoor market".