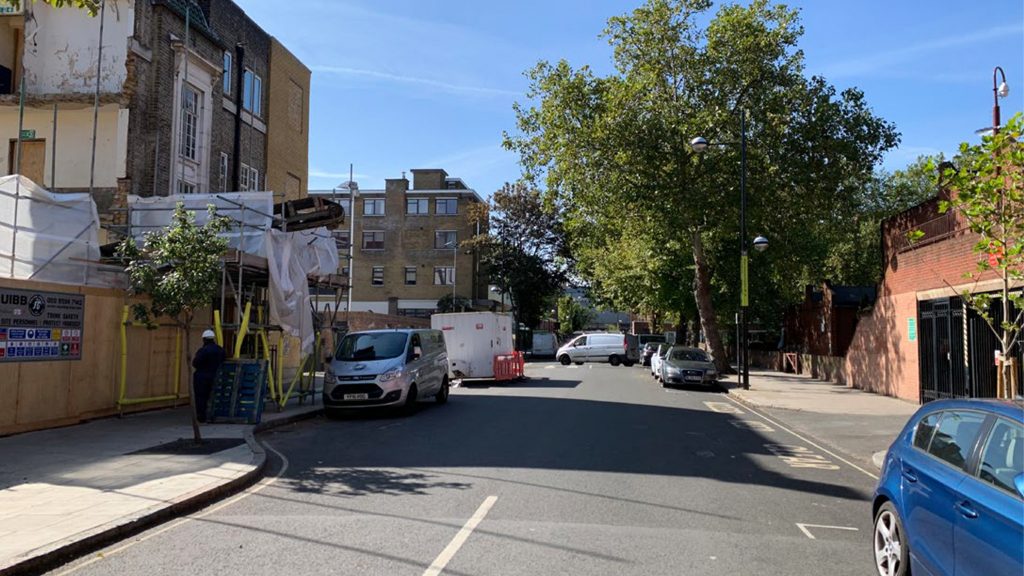 Image: View of Phoenix Road
The London Festival of Architecture and the London Borough of Camden have launched a new design competition, inviting architects, landscape architects, designers, and artists to develop a creative design in Somers Town that supports the events planned in the area as part of LFA 2022.
This residential neighbourhood is home to a diverse and well-established community and has a unique history that has changed throughout the centuries: from initially being private estate land through to receiving refugees from the French Revolution in the late 18thCentury and being the temporary home of Charles Dickens. Located directly north of Euston Road and nestled between King's Cross and Euston, Somers Town sits in an area that is undergoing large scale redevelopment, including HS2 construction and the British Library Extension. Whilst King's Cross and Euston have experienced significant growth throughout the years, Somers Town and its residents have yet to see the full benefits of surrounding regeneration.
The competition involves developing a creative design installation along Phoenix Road, which is planned to be transformed as part of the Greening Phoenix Road project. Funded through HS2 mitigation funds, the Greening Phoenix Road project aims to create a new green link between Euston and St. Pancras Station. A weekend-long road closure is envisaged at the end of June and will concentrate most of Somers Town's programme for the LFA 2022. The winning scheme will act as a focal point and platform for LFA 2022, bringing events, activities, and people together.
The design proposal should take into consideration five broad design aspirations that have emerged through community engagement undertaken in 2019:
From grey to green: a colourful and biodiverse public realm
Safe and accessible for all
Place specific and unique: reflecting the character of Somers Town
Sociable and playable space
Well-connected and integrated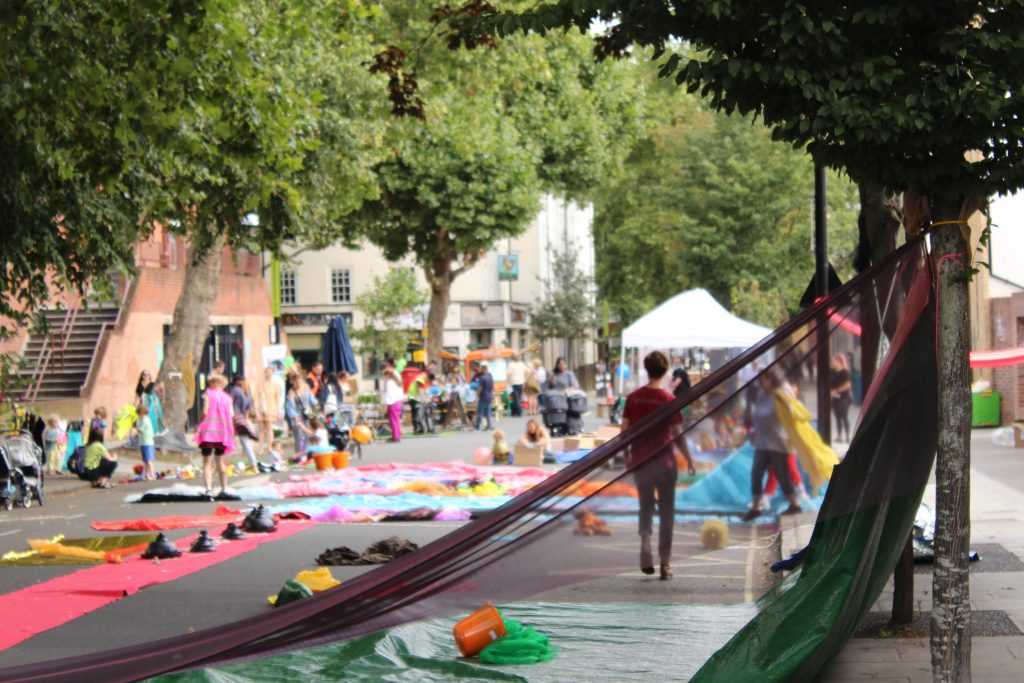 Image: Phoenix Road Car Free Day
The competition also provides room to experiment with what becomes possible in the car-free environment of Phoenix Road during its weekend closure. This year's LFA theme is 'act', and interested applicants are encouraged to explore what meanings this word holds for Somers Town, as well as to be bold and imaginative, and aim to create interest and debate via their design, and ideally also a legacy for the area.
The winning team will be announced in April 2022 and awarded £25,000 + VAT (which includes a £5,000 design fee) to develop a fully costed, feasible design that can be delivered at the end of June 2022. The delivered scheme will remain in-situ for 28 days but might stay on site for up to a year.
Interested applicants are invited to submit their expressions of interest by midday on Friday 25th February. Information for applicants is available here.
Councillor Danny Beales, Cabinet Member for Investing in Communities, Culture and an Inclusive Economy at Camden Council, said: "We are delighted to be working with the London Festival of Architecture this year. After a difficult period, it is a chance for communities to come back together and celebrate some of our neighbourhoods, their special architecture and people. We are calling for ideas for a public exhibition in the heart of Somers Town on Phoenix Road. This is a chance for creative minds to work with local people and organisations to produce a design which captures Somers Town's history and unique identity and generates new ideas of how the road can be a more green, inclusive, healthier and accessible street for all".
Rosa Rogina, Director of London Festival of Architecture, said: "We're thrilled to be working with the London Borough of Camden on a design competition that will make a real difference to Somers Town's residents. This competition is a brilliant opportunity to show how thoughtful and imaginative design can transform familiar places into something special. We're looking forward to receiving applications that demonstrate how architecture can engage communities and transform London's public realm for the better. I hope this competition will bring local communities together after two years of lockdown and provide a tangible asset for Somers Town during the festival and beyond".