The LFA and Team London Bridge have unveiled The Tooley Street Triangle – a new wayfinding beacon designed by Charles Holland Architects outside London Bridge Station. The latest in the London Festival of Architecture's ongoing series of public realm improvements across London, The Tooley Street Triangle is a symbol of celebration and welcome as London's streets come to life once again with visitors, commuters and Londoners.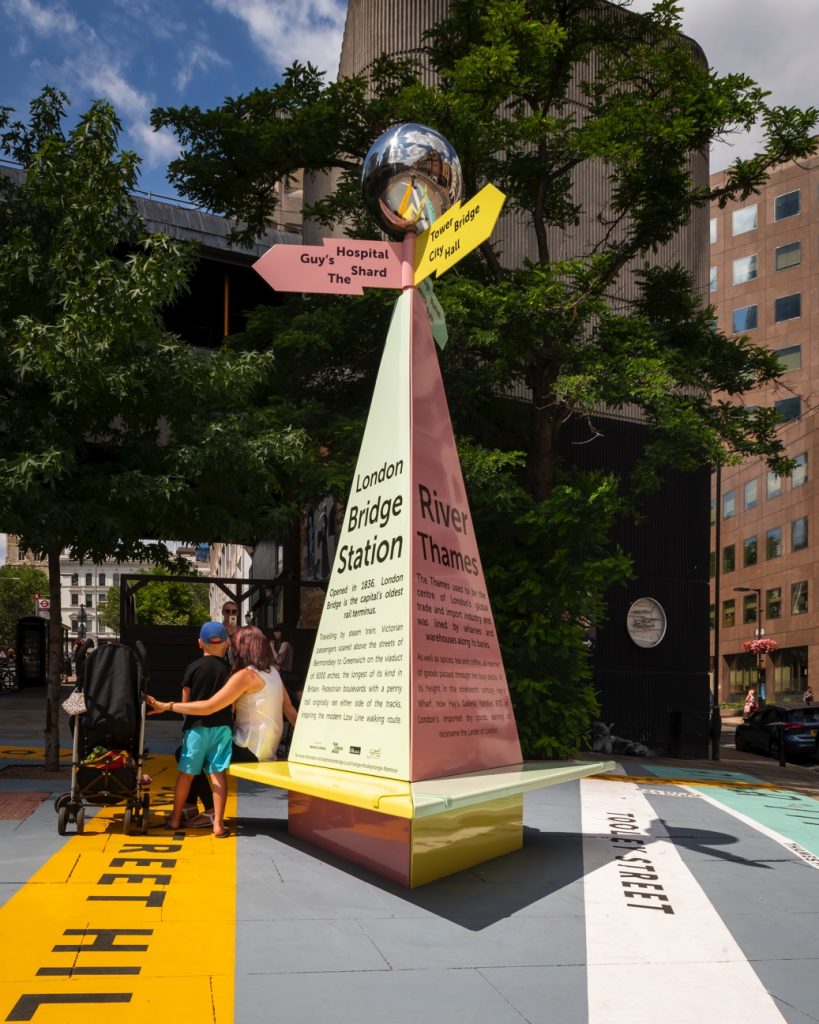 You are Here by Charles Holland Architects. Copyright Jim Stephenson & Luke Hayes 2020
Charles Holland Architects won a design competition organised by the LFA and Team London Bridge in 2018 to help people to orientate themselves near London Bridge, and to transform a busy but dull traffic island opposite the main entrance to London Bridge station. Covid-19 restrictions prevented the planned installation of The Tooley Street Triangle in April: its installation now marks a turning point and a beacon of hope as London opens up following weeks of lockdown.
The Tooley Street Triangle is conceived as a map come to life, helping people who use London Bridge to find their way around the area, and transforming an overlooked piece of pavement into a local landmark and meeting point. It has three elements: a scale map of the area around London Bridge printed onto the pavement, complete with street names and major landmarks, a giant signpost with local directions and information on it, and a bench for passers-by to take a breather. The Tooley Street Triangle also draws people from the busier main roads and signposts quieter routes with cleaner air, away from noise and pollution. 
Charles Holland said:
"We are very pleased to have completed the installation of our designs for the Tooley Street Triangle. The beacon and the map are intended as playful and enjoyable additions to the streetscape that will improve legibility and give identity to this small but important part of the public realm. The project has involved a large number of different partners and stakeholders and we would like to thank Team London Bridge and LFA for their commitment in realising the commission".
Tamsie Thomson, director of the LFA, said:
"The unveiling of The Tooley Street Triangle could not have come at a better time. While so many of us are looking forward to getting to know London again, we won't be getting lost outside London Bridge station any more. I'm delighted that people are beginning to enjoy London's buildings, streets and spaces once again, and Charles Holland Architects' joyful and quirky installation captures London's spirit of welcome and creativity."
Jack Skillen, Placeshaping Director at Team London Bridge, said,
"The Tooley Street Triangle is a beautiful object, a meeting point, a source of historical information and a map to explore some of our quieter routes to the river, Tower Bridge and Borough Market. Located adjacent to the site of the original London Bridge, this busy small space has been confusing and underwhelming for visitors over many years, but will now help people walking through this historic area. As the health crisis restrictions ease, we hope this beacon will be a symbol of renewal and recovery now London Bridge businesses are returning and open for business."
The Tooley Street Triangle is the latest in a year-round series of public realm improvements curated by the London Festival of Architecture, procured via open call design competitions that give opportunities to and showcase an extraordinary range of creative talent. Future installations include a major piece of public art near St Paul's Cathedral, produced by the LFA in partnership with the Cheapside Business Alliance and the City of London Corporation. 
The Tooley Street Triangle forms part of the Borough Business Low Emission Neighbourhood which was supported by the Mayor of London. Other improvements delivered locally include new zero emission deliveries and freight consolidation, innovative and beautiful greening installations, and a number of clear air routes that take pedestrians to their destination along quieter routes, including one to Guy's Hospital, which reduces pollution exposure by around 50%.
**
To hear Charles Holland share the story behind the design and how it fits into the wider concept of wayfinding, click on the video below.
Alternatively you can listen to the conversation on site by downloading it from our 'Building Sounds' podcast feed via Apple Podcasts, Google Podcasts, Spotify Pocket Casts, or by searching for 'Building Sounds' wherever you normally get your podcasts.