The London Festival of Architecture and Royal Academy of Arts welcome submissions for the fifth annual RA Architecture Symposium in partnership with the London Festival of Architecture. The symposium aims to expand thinking about the culture of our built environment and has established itself as one of the key events in the London architectural calendar.
The symposium represents an opportunity for both emerging and established practitioners, academics and researchers to reflect on this year's festival theme of 'act' and to present and discuss their work with peers and a public audience.
This year's symposium will take place in person at the Royal Academy of Arts on June 7th 2-5pm.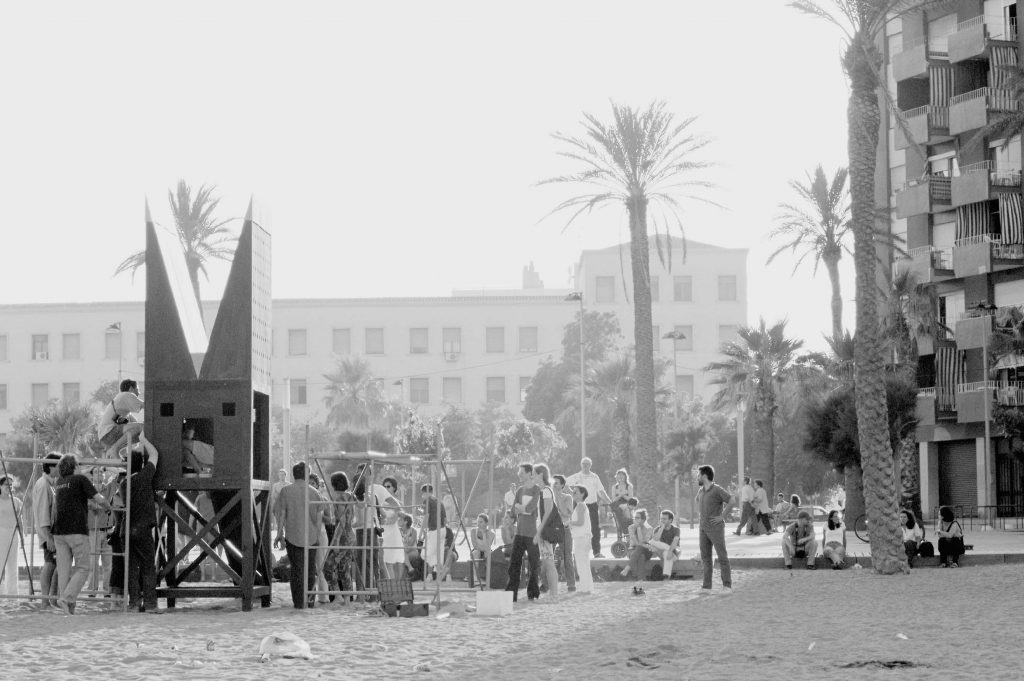 John Hejduk. House for a Poet
International Summer Workshop at ETSA Barcelona, directed by Flores & Prats.
Final celebration at Barcelona beach, June 1999.
Image courtesy Flores & Prats
About the theme
Inspired by the 2022 London Festival of Architecture, the RA Architecture Symposium will look broadly at the theme of 'act', and invites submissions from architects, researchers, artists and spatial practitioners on angles including activism, the agency of architects, collaboration, theatricality, and narrative in architecture.
Connecting also to the Royal Academy exhibition John Hejduk: London Masque, the symposium welcomes considerations of Hejduk's idea of 'Building Worlds', and the way that architecture can help us to imagine alternative realities as part of a wider cultural conversation.
For the first time, submissions can include either proposals for traditional spoken presentations, or alternative pieces including, but not limited to, performances, spoken word or poetry. With all pieces there will be a limit of 10 minutes.
The symposium will group submissions exploring complementary topics with time for discussion and exchange following the presentations.
Possible topics to explore:
Agency and activism in the field of architecture
Temporary projects and their ability to empower communities / How can temporary projects overcome their limitations and meaningfully contribute to the communities they serve?
Acts of experimentation and prototyping through drawings and model-making
The performative power of architecture and the role of the architect as actors, poets, artists, and story-tellers
Facadism, honesty and transparency of buildings and the industry
How to submit
Please submit an abstract of up to 300 words plus a one-page CV, outlining any institutional affiliations, by midday on Monday 28th March 2022.
More information on the symposium and submission requirements can be found here.
[ENTRIES ARE NOW CLOSED]