Over Here – designed by architect Iain Jamieson in partnership with artist Zoë Power – has been named as the winning concept for our 'Pop-Up Bike Parking' competition in collaboration with Network Rail. Launched earlier this year, the project seeks to ease passengers' onward journeys from road to rail network, by offering simple, safe, and imaginative bike storage solutions outside some of London's biggest mainline stations.
With commuters often pressed for time in back-to-back legs of their journeys, the competition invited architects, designers, and other built environment professionals to submit creative ideas for bike parking solutions that can help to improve the links between sustainable transport options across the capital.
Iain Jamieson and Zoë Power's Over Here tackles the issues presented by existing cycle parking provisions, where the limited free spots are often difficult to identify amongst the clusters of bikes already at the station.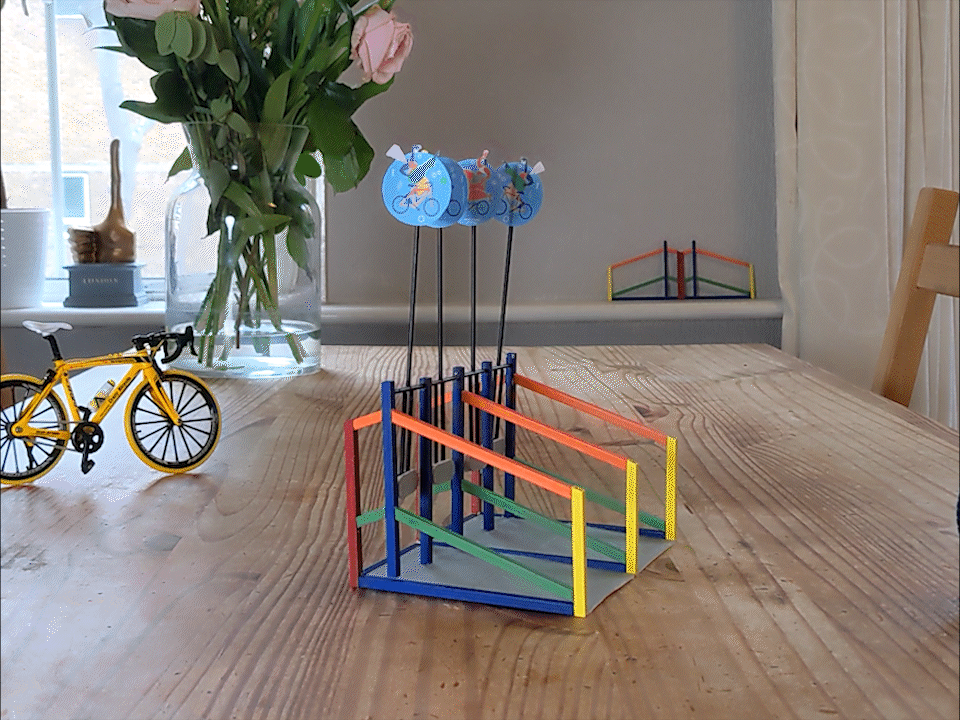 To support the rapidly increasing number of cyclists with a smoother station and travel experience, Over Here is a multi-coloured bike rack that uses an efficient, easy-to-use mechanism to make bike parking spaces clear from afar. Each bike parking space features an upright, artist-designed marker – with the original design created by Zoë Power.
When parking a bike, it can be secured directly to the metal rack and the front wheel pushes a counterweight, tilting the marker forward to indicate that the stand is in use. As a result, the position of the marker allows cyclists to quickly see the number of stands that are occupied or where the free spaces are located, even when the bike racks are at their busiest. Removing the bike releases the weight, moving the marker back into its original position, without cyclists having to intervene or activate the mechanism themselves.
Over Here offers an innovative take on traditional bike parking solutions, and has been designed in modular components, with the potential for this to be replicated and trialled across various mainline stations in London. The project centres around collaboration and offers the opportunity to adapt the design to different sites, by working with a range of artists to deliver unique, station specific artwork as the cycle parking is rolled out to other key transport nodes across the capital.
The Pop-Up Bike Parking competition was judged by an expert panel, including:
Anthony Dewar (network technical head buildings and architecture, Network Rail)
Frank Anatole (principal architect, Network Rail)
Tim Dunn (railway historian and TV presenter)
Rosa Rogina (director, London Festival of Architecture)
Paul Priestman (director, PriestmanGoode)
Sarah Wigglesworth (director, Sarah Wigglesworth Architects)
Frank Anatole, Network Rail's Principal Architect, said:
"We are delighted to announce the winner for the Pop-Up Bike Parking Competition, selected from a wide range of inspiring entries. "Over Here" is a creative and innovative design for bike parking at our railway stations and we look forward to working with Iain Jamieson and Zoë Power as they bring their concept to life at the London Festival of Architecture in 2022.  We are always looking for innovative design solutions that allow ease of travel both to and from the station and this was chosen by the panel as best answering the competition brief."
Rosa Rogina, Director, London Festival of Architecture, said:
"In an innovative response to our competition brief, Iain Jamieson and Zoë Power's winning concept highlights the transformative potential of small-scale design in improving people's experiences of travelling through the capital, its stations and beyond. Over Here truly captures the idea of collaboration, offering a fantastic opportunity to support an exciting range of artistic perspectives. We're excited to be working with Network Rail and this talented design team on bringing the project to life and are looking forward to seeing this welcoming intervention benefit Londoners, commuters and visitors during the 2022 London Festival of Architecture."
Iain Jamieson and Zoë Power are now working with Network Rail to finalise the fully costed, feasible design concept for manufacture and installation during the London Festival of Architecture in 2022.
Over Here was selected from an impressive group of shortlisted collaborations, including Studio C+T, SP Chain Reaction, Poku-Davies Studio and Starcity, Ben Wu-Holmes and Act-Moss-Cycle.
You can watch the proposals of the six shortlisted design teams below.
Over Here by Iain Jamieson in collaboration with Zoe Power
Bike Hive by Ben Wu Holmes
Pop-up bike parking at Victoria Station by Poku-Davies Studio and Starclarity
The Velomiere by Studio C+T
Act-Moss-Cycle by XQLA et Al
Chain Reaction by Studio Partington