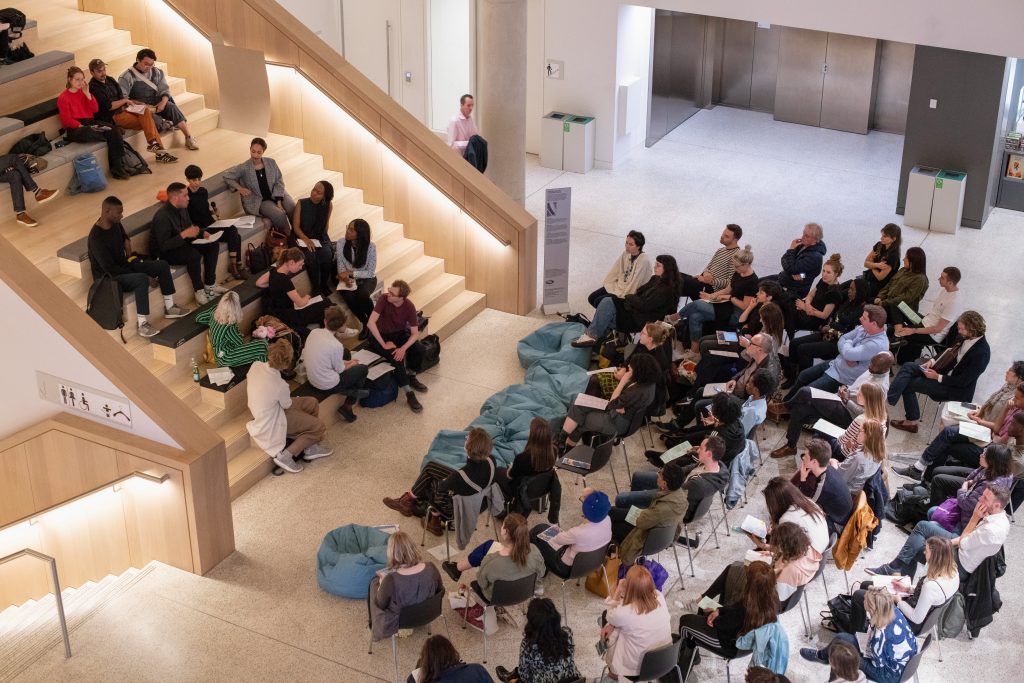 We're delighted to announce that 'Manifestos: Architecture for a New Generation' is returning to London this June!
Now in its fourth year, Manifestos is a collaboration between the LFA and the Design Museum, highlighting work by an emerging generation of voices in architecture who are shaping a new future for London. This year's Manifestos will take place in person on Saturday 11 June at the Design Museum, 4pm-6pm.
The challenges that London poses to young people are shaping the boundaries of architecture and what it means to be an architect in this city. Precarious working conditions cuts to public services and facilities, social discrimination, and now the repercussions of Covid-19 are just some of the defining parameters facing young people today. In London, they present urgent and complex spatial challenges for the city and its future urban life.
Each year, a panel of influential architects and thinkers are invited to nominate a new voice who is expanding the parameters of what architecture can be, who London is for and what its future holds
This year's nominators include:
Elsie Owusu, OBE: Elsie is an architect whose work includes the UK Supreme Court and London's Green Park Station. Current projects include a studio/residency complex for Yinka Shonibare CBE in Lagos and new eco-homes in Sussex. Elsie is a director of JustGhana Ltd, promoting education in architecture and creative industries in Ghana and the UK. She was honoured for services to architecture as Founding Chair of the Society of Black Architects.


Ben Campkin: Ben is Professor of Urbanism and Urban History in The Bartlett School of Architecture, Co-Director of UCL Urban Laboratory and author of remaking London: Decline and Regeneration in Urban Culture (2013).
Binki Taylor FRSA: Binki is a creative producer and community activator, and founding partner of the Brixton Project, a community placemaking organisation that uses creativity to involve local people's in the cultural and economic evolution of where they live and work. Her approach to working in evolving communities is to build creative accessible, people-first platforms to foster communication between stakeholders.
Thomas Aquilina: Thomas is an architect who is investigating the relationship between spatial justice and the climate crisis in London.
This year's nominees include:
Krish Nathaniel, nominated by Thomas Aquilina. Krish is a spatial practitioner, working between urban design and spatial justice. He is the Principal Urban Designer for Harrow and architect-in-residence at Glamis Adventure Playground. Krish has written for The Observer and Architectural Review and as an artist focuses on transnationalism and social histories.

Nathaniel Télémaque, nominated by Ben Campkin. Nathaniel is a North West London, born and raised neighbourhood Visual Artist, Writer and Researcher. His Practice-Related PhD Project 'Everyday Things: Generations 88 – 98' visualises the experiences of a kinship group of young Black Adults living on the White City Estate in Shepherds Bush, West London.
Prince Henry Ajene, nominated by Elsie Owusu OBE. Prince is an architectural designer and director at Henry Ajene Studio. He has expertise in the design and delivery of art, residential, and urban design projects within the UK and West Africa. He worked with Elsie Owusu Architects leading the UK design team for Guest Artist Space, Lagos, for British-Nigerian artist Yinka Shonibare CBE, RA.
NOOMA Studio, nominated by Binki Taylor. NOOMA Studio is an interdisciplinary design practice of architects and creatives with a heartfelt connection to London. The studio is founded on diversity and a collaborative co-creation methodology. Formed of members from non-traditional backgrounds,  NOOMA take London's cultural mosaic is their normal.
Book your tickets via the Design Museum's website here.