We're thrilled to reveal the four winning designs for the 2022 edition of Showroom Showcase. Emerging architects, designers, artists were invited to create unique architectural installations, made of paper, which will be on display in the windows of four established design showrooms, VitrA Bathrooms, Billi UK, Gaggenau and Siemens.
The competition attracted an exciting selection of entries from a range of disciplines. Each shortlisted team offered a unique response to the competition brief, showcasing their ability to create stunning designs with simple low-cost materials. The installations will be available to visit in June throughout the London Festival of Architecture at the Siemens, VitrA Bathrooms, Gaggenau and Billi UK showrooms across Marylebone and Clerkenwell.
The successful teams have been awarded £1,600 including a £600 design fee to make and install their paper installations, and these are:
Choose Love by It's a local collective with Tom Tse at Billi UK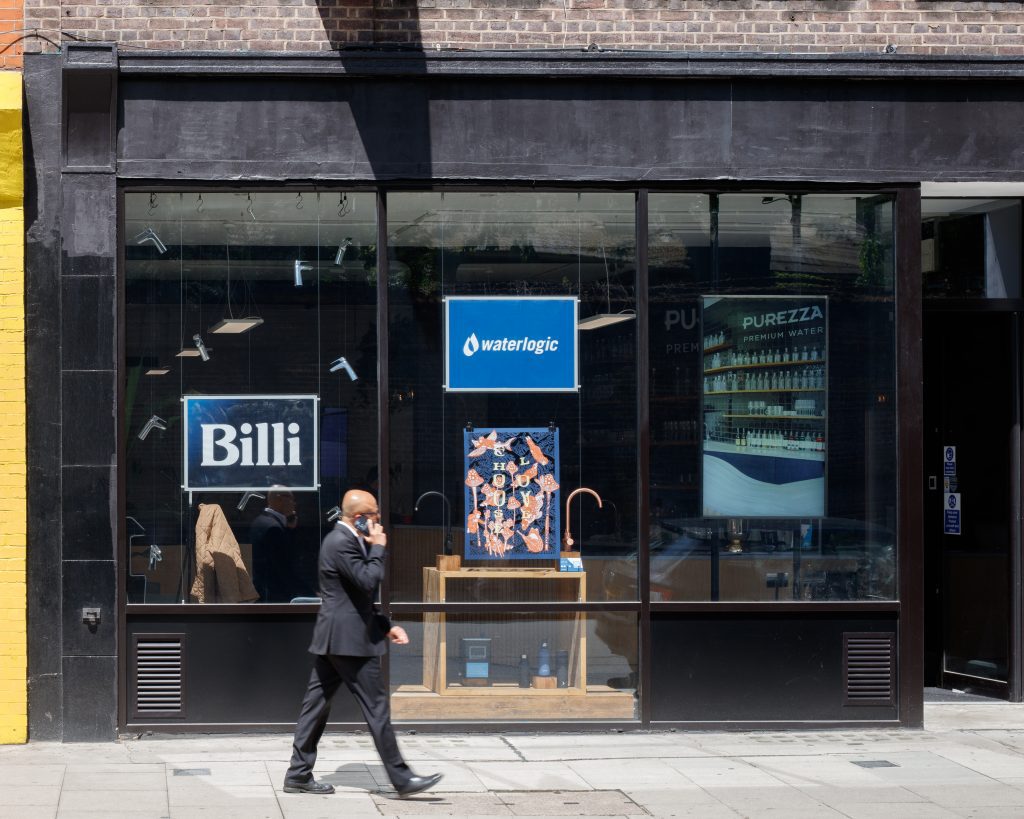 © Luke O'Donovan
It's a local collective is an art and architectural collective focused on creating objects and spaces that bring people together. Their projects are about building resilient social relationships and sustainable constructions playfully and seriously. They are also a materials lab that experiments with the use of local clay deposits as building materials. For this project, It's a local collective is collaborating with papercut artist and practising printmaker, Tom Tse. Tse produces highly detailed artworks carved from paper that embrace the natural strength of the delicate material. Tse's witty images confront the repetitive and monotonous nature of the cutting process and expose the beauty in the mundane.
Choose Love uses the power of paper and words to celebrate the relationship between humans and rivers. It tells a mythical tale of life underwater, praising the beauty and importance of the river's ecosystem – a value that It's a local collective and Tom Tse share with Billi UK. This collaboration was inspired by the tradition of fai chun – East Asian calligraphy written on decorative paper to bring blessings into the new year – an element of culture important to both It's a local collective's and Tse's heritage. As such, Choose Love acts as a meticulously carved blessing, providing a beautiful, interactive reminder that love is a choice and an action, a sentiment all the more relevant in our post-Covid world. Choose Love is generously supported by G.F Smith.
📍 Location: The Hydration Showroom, 56-58 Clerkenwell Road, EC1M 5PX
Hear the designers talk about their installation
---
UNFURLED by HagenHinderdael at Gaggenau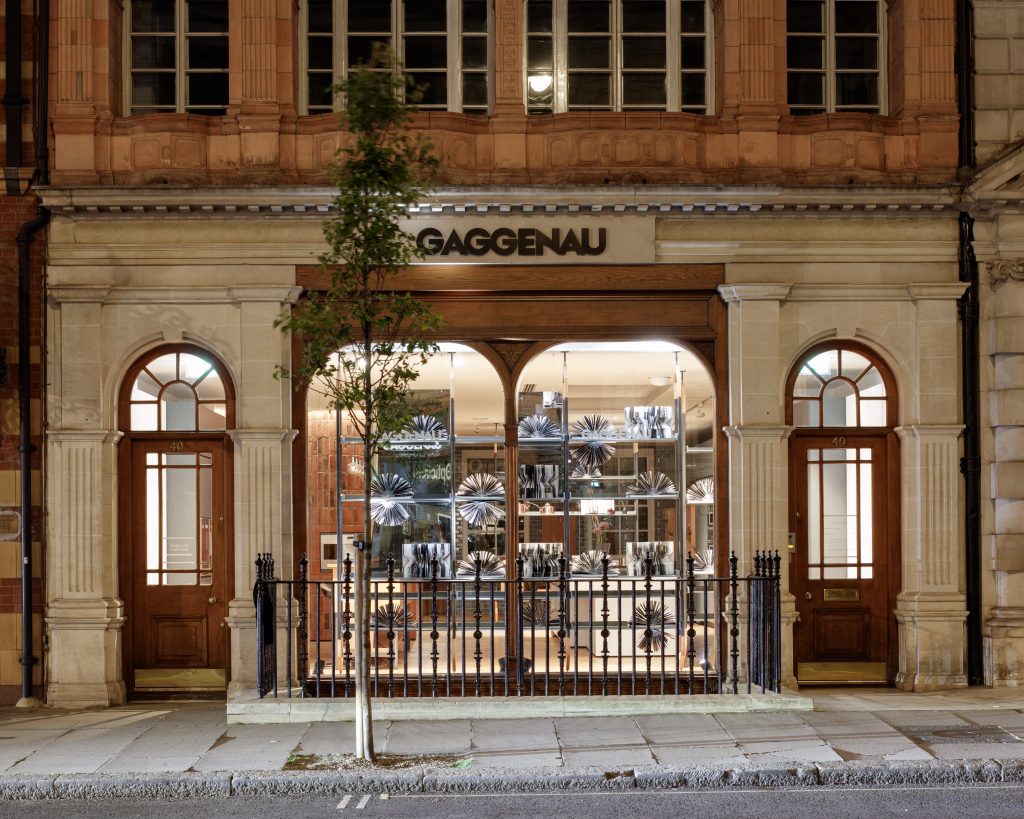 © Luke O'Donovan
Pairing product design with art, HagenHinderdael are an award-winning creative practice who work at the intersect of sustainable design and innovative technology to create sculptural products and immersive installations. Merging sustainable materials with traditional craftsmanship and innovative technology, they produce elements, feature installations, and placemaking schemes that push the boundaries of engineering whilst bearing the incentive of a continuous afterlife.
As a creative practice, beyond their conceptual visions they are also fundamentally grounded in how to be earth- conscious designers of the future: always designing with the ethos of a circular economy in mind. From the business vision where all installations are made up of products to allow for a continuous afterlife, to their research and development arm into how to integrate the latest technologies within their designs: HagenHinderdael aim to inspire future generations into what we can do when we think outside of the box and bring our narrative full circle.
Working with paper as the raw material, UNFURLED is a feature installation taking over the shop window at Gaggenau London. Using a zero-waste methodology, HagenHinderdael proposes to integrate the installation across the existing structural framework and recycle old Gaggenau catalogues in an architectural gesture expanding across the shop window. Taking on both a 2d and 3d form, catalogues will either be stacked or folded as they transform into a 3d sculptural artwork.
The experience will be strong in both day and night, and through its re-use and non-obstructive installation methodology, ensures that HagenHinderdael aligns with Gaggenau brand principles whilst activating the architectural space of the shop window.
📍 Location: Gaggenau, 40 Wigmore Street, W1U 2RX
Hear the designers talk about their installation
---
Lateral Flow by WallaceLiu at Siemens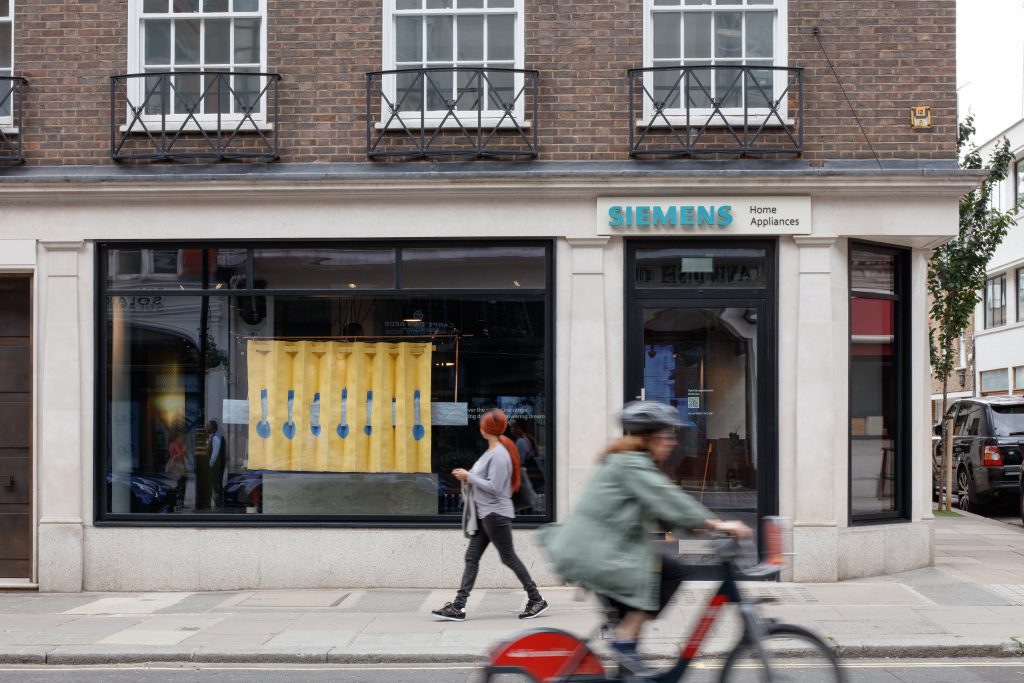 © Luke O'Donovan
WallaceLiu (Jee Liu and Jamie Wallace) is a British-Chinese architecture and design firm with expertise and interest in projects that involve adaptive re-use. At the heart of WallaceLiu's work is a desire to make places where complex relationships between new and old are celebrated through space that is rich in layers, light, colour and texture. In 2020 WallaceLiu received a prestigious UK design award from the American Institute of Architects. In 2021, the firm was selected by the Architecture Foundation for their book New Architects 4, and in the same year, the Telegraph Luxury selected Jee Liu as one of the six best female designers working in the UK.
Since the invention of the litmus test by Spanish physician Arnaldus de Villa Nova in the 14th century, paper has been used in science and medicine, providing a simple and affordable mechanism to test the properties of a substance. With Lateral Flow, WallaceLiu plays with their recent collective experiences by exploring the tectonic and aesthetic properties of large format strips of quantitative test paper that slowly absorb a substance, making invisible qualities tangible and real, revealing pixelated memories through the way they change colour and texture.
📍 Location: Siemens, 12-14 Wigmore Street, W1U 2RE
Hear the designers talk about their installation
---
The Floating Column by Space A at VitrA Bathrooms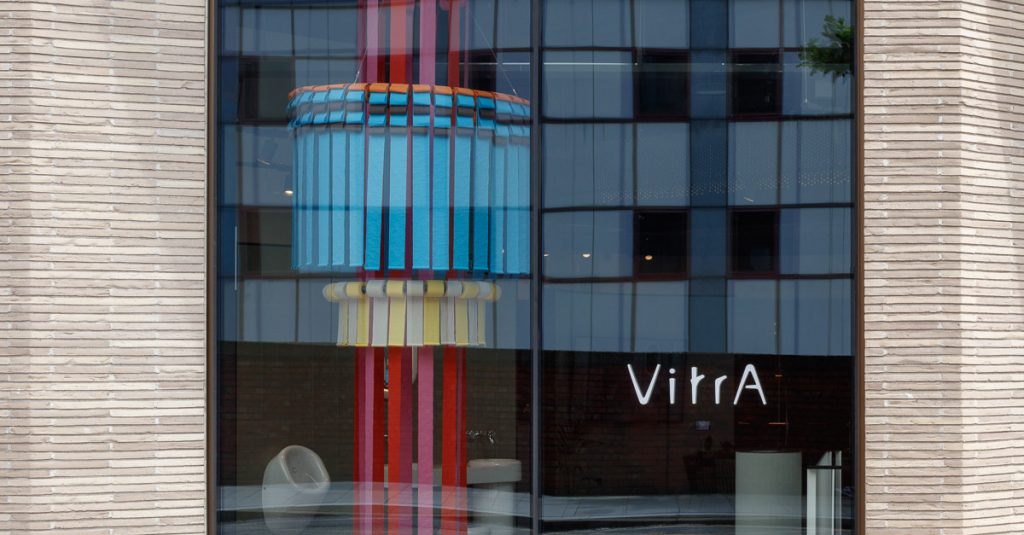 © Luke O'Donovan
Space A (Amelia Hunter and Anna Drakes) are an architecture and interior consultancy based in London and Anglesey. They design and deliver human spaces that look, feel and sound like home. Space A do this with sensitivity to the user's feelings and with empathy to their habits, routines and lifestyle. They lean into contextual, historic, material and idiosyncratic factors that make a place and building special. They ultimately believe that 'form should follow feeling' and that home space should make people feel the best versions of themselves.
The starting point for The Floating Column was to celebrate a rainbow of emotions in space. Space A loved the idea of using colour to create something that resembled both a floating classical column but also a grand chandelier. The team were inspired by the form of flowing, overlapping and looped strips of textile weaving and enjoyed the joyful mix of shades demonstrated by artists like Annie Albers. The piece is fabricated from a material that is used every day and generally taken for granted: toilet roll. As a material, it is infamous for its impact on global deforestation and more specifically its role in the 'panic buying' sprees that took place at the start of the Covid -19 lockdowns. But by showcasing this taboo product Space A wanted it to be a 'joyful beacon' calling to arms a collective wave of action to question its role in our 21st-century homes, offices and public spaces.
📍 Location: VitrA London, 64 Turnmill Street, ECM1 5RR
Hear the designers talk about their installation
Rosa Rogina, Director of London Festival of Architecture, said: "It is brilliant to see such a variety of submissions for the 2022 edition of Showroom Showcase. The installations bring life back to the streets of London and I believe our audience will be impressed by the creativity of the artworks and by how much can be achieved using a simple material like paper."