Happy Street – the transformation of a south London railway bridge by visual artist Yinka Ilori – has been revealed.
The project is the outcome of a design competition organised by the London Festival of Architecture and Wandsworth Council, and part of an initiative to improve the public realm around Nine Elms and Thessaly Road as a key transport route.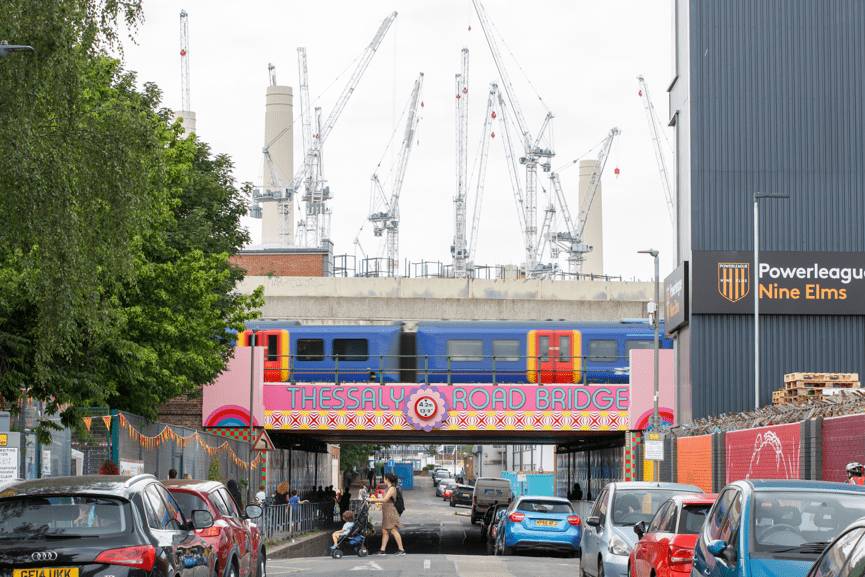 Yinka Ilori's Happy Street is the artist's first public realm commission, and is a key part of Wandsworth Council's work to transform the gloomy underpass beneath the Thessaly Road Railway Bridge into a bright and welcoming environment for existing communities, pedestrians and cyclists, on a key route between Wandsworth Road and Nine Elms Lane.
Happy Street is an interactive installation that floods the underpass with colour and light. The walls of the underpass and the bridge to either side are clad with 56 richly patterned vitreous enamel panels forming a low-cost, durable and cheerful surface. Inspired by colour theory, Yinka Ilori used 16 different colours for happiness and wellbeing. At night the underpass is illuminated, enhancing the structure as a new local landmark, and giving users a greater sense of safety as well as pleasure as they pass through what was hitherto a very ordinary and forbidding environment.
Yinka Ilori has sought to encourage users of the underpass to become more aware of environment around them – for instance in the bright colours that reference the spectacular Thames sunsets that residents of Nine Elms can enjoy. Together with the team at Wandsworth Council, Yinka Ilori has worked closely during the development of the project with local residents and nearby St George's C of E Primary School, helping to empower people to engage with and shape their local neighbourhood as it continues to undergo major new development and change.
Yinka Ilori is a London-based artist whose work spans the divisions between art and design, blending European and African traditions with contemporary designwhile sparking a conversation about social norms and consumer culture. The Colour Palace at Dulwich Picture Gallery – a collaboration between Yinka and Pricegore – has been a highlight of the London Festival of Architecture 2019 season and has met with huge popular and critical acclaim.
Yinka Ilori said:
"I am really honoured and blessed to have my first public realm project installed in Nine Elms, Battersea! The most important part of the project was talking to the community, especially the young children and seeing the smiles on their faces when they walk under the bridge has been magical. I just hope this bridge continues to bring happiness to everyone who walks under Happy Street and inspires the next generation of young artists because they are the future."
Tamsie Thomson, director of the London Festival of Architecture, said:
"We're so proud to have been part of the Happy Street project: we set out to champion London's amazing design talent, create something that would make a difference to people's lives and improve London's public realm. So thanks to an amazing partnership with Yinka Ilori and Wandsworth Council it's mission accomplished, and a fantastic legacy for the London Festival of Architecture 2019 season."
Cllr Ravi Govindia, Leader of Wandsworth Council said:
"I am delighted that this Nine Elms rail bridge has been so successfully transformed into a colourful gateway – together with Yinka Ilori we listened to community concerns and worked closely with local residents and St George's school to ensure we delivered a design that they would be happy living next to.

"This was a unique project to bring art and transport infrastructure together and has been a huge achievement to get finished just one year after the design competition, thanks to close working with our local partners, transport and London Festival of Architecture.

"I hope that what we see here gives fresh inspiration to re-imagine London's built environment and consider incorporating art into other structures around us."