Together with the Royal Docks Team, we're thrilled to reveal the winners of the third edition of the Pews and Perches design competition, which will see a series of bespoke public benches delivered throughout the Royal Docks this year.
Now in its third year, Pews and Perches competition highlights the transformative impact of small-scale interventions in the public realm and offers visitors and residents alike unique spaces to sit and make the most of their surrounding public space.
The winning teams, designs and locations are:
What-A Water Waste! by Leroy Yuen and Gemma Louisa Holdaway with support from ReCyrcle, Grymsdyke Farm and Absence from Island.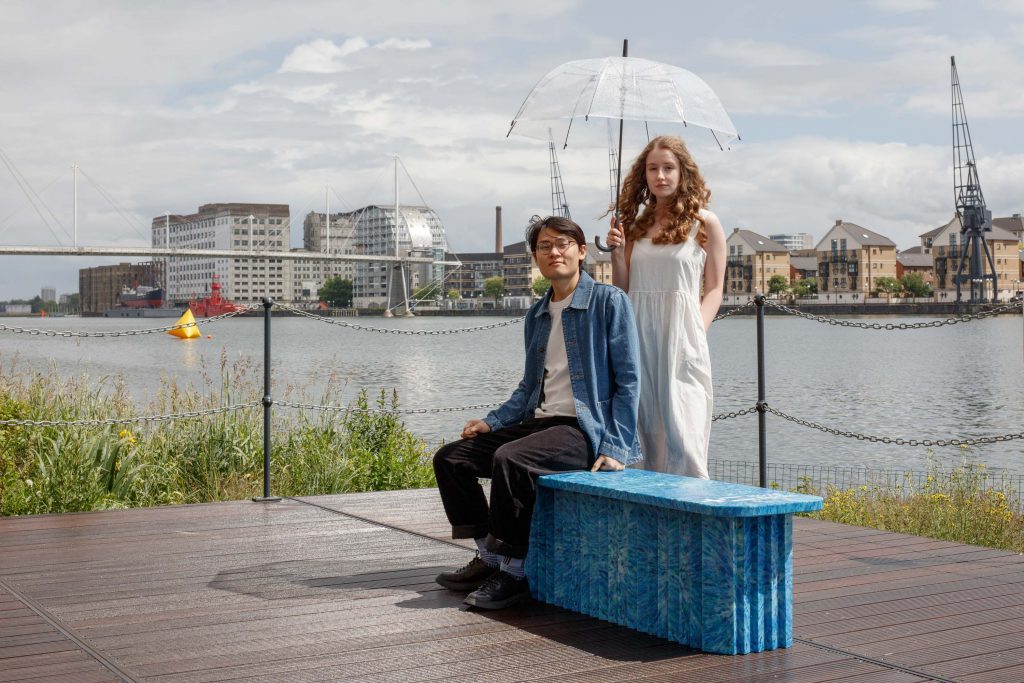 © Luke O'Donovan
What-A Water Waste! is a public bench made from community HPDE plastic waste. The bench stands as a socio-cultural sculptural piece that aims to represent how we can all come together to act against the current climate emergency. Collected from the Royal Docks and the surrounding local area, the plastic waste has been transformed into unique plastic sheets that read as a map of waste traces, rightly indicating the act of coming together across communities to find new circular ways of designing.
Leroy Yuen is currently working as a Part II Architectural Assistant in London after completing his studies at the Royal College of Art in 2019.
Gemma Louisa Holdaway is currently studying Design Management at University of the Arts London and focuses on circular practices in the creative industries.
📍Location: Royal Victoria Dock Floating Garden
Hear the designers talk about their bench
---
GAM By Fiona Hartley and James Parkes, with thanks to Made CNC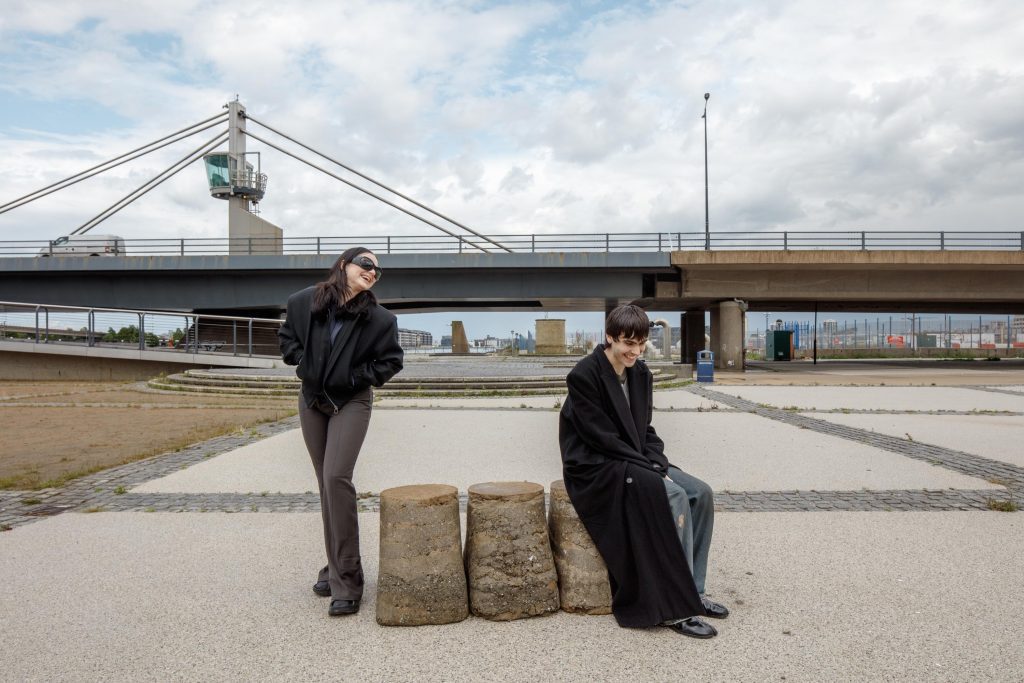 © Luke O'Donovan
GAM is a modular bench that takes cues from nearby manmade infrastructure. The bench transforms typically overlooked objects of industrial architecture to create approachable objects for interaction. GAM references, replicates, and reuses the industrial and weathered materiality of its location through a layered papercrete construction formed from wastepaper collected from surrounding locations.
Fiona Hartley and James Parkes are designers and consultants based in London. They met whilst studying architecture at Central Saint Martins and worked for dezeen upon graduating. They both work across architecture, design and fashion.
📍Location: Connaught Crossing (South Side)
Hear the designers talk about their bench
---
A Cautionary Bench/Mark by Andre Kong Studio, with support from Andrew Tan, Daniel Meier and the learners at UTC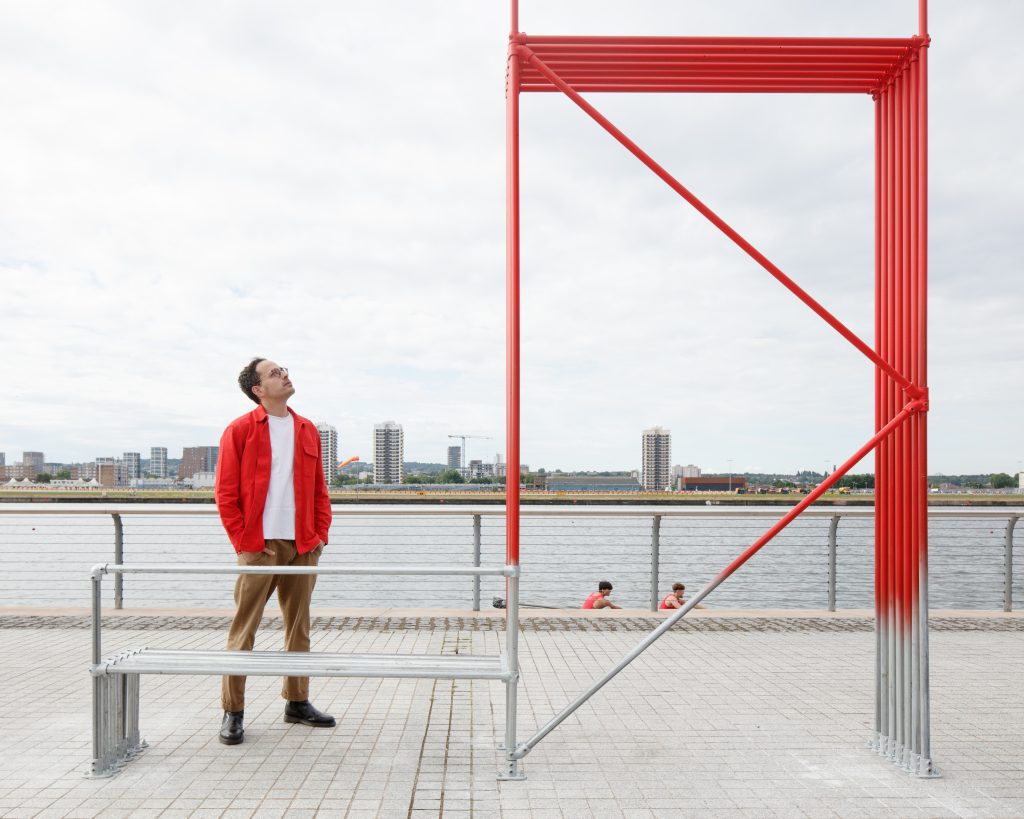 © Luke O'Donovan
A Cautionary Bench/Mark is built from reclaimed materials and is set on two levels. The lower bench invites passers-by to sit and reflect on the individual and collective actions that will lead to the higher-level looming 2.6m above – the water level expected during a severe tidal storm in 2030. The red gradient of the bench, reminiscent of a change in colour caused by cumulative water level marks and highlighting the increasing risk, reinforces the urgency to act on the climate crisis now or never.
Andre Kong is the founder of Andre Kong Studio, an emerging architecture practice that explores how material tradition, context and technological innovation can be unexpectedly combined to develop fun, elegant, and future-proof solutions for sustainable and inclusive buildings, objects, and experiences.
📍Location: London Design and Engineering UTC
Hear the designers talk about their bench
---
Sail-Phone by Lo² (Alcina and Benjamin Lo) with thanks to Adam Bodnar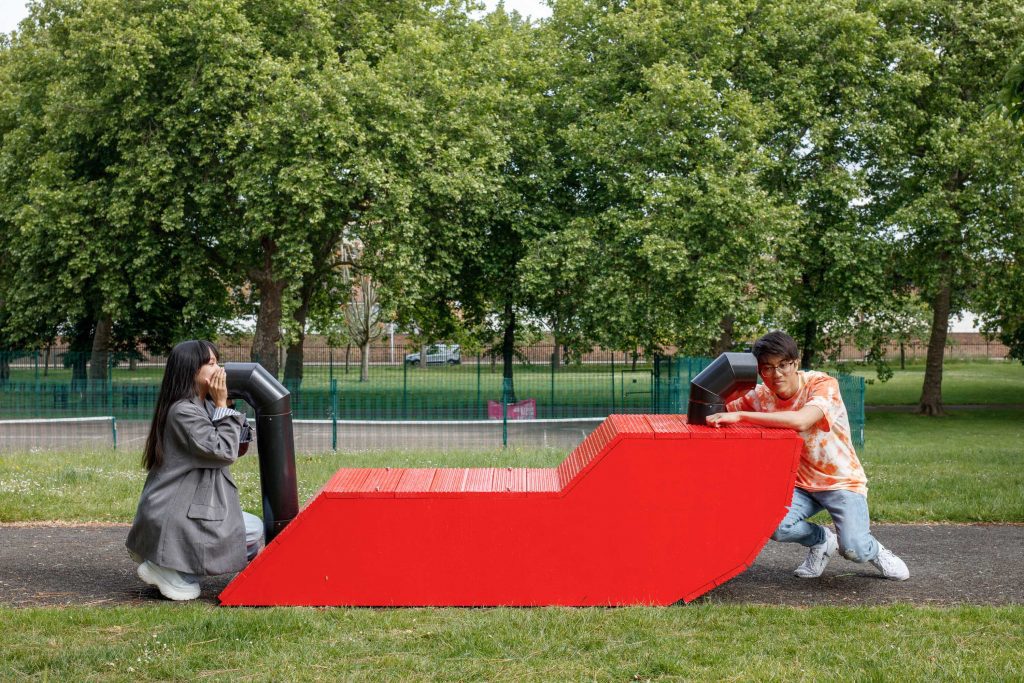 © Luke O'Donovan
Aspiring to capture the vibrancy and rich history of the Royal Docks, the shape of Sail-Phone is an abstract take on the Lightship 'LV95' of Trinity Buoy Wharf with its iconic bright red paint. With its multifunctional use as a bench and with an interactive speaking tube, reminiscent of those used to communicate on ships, Sail-Phone's captivating appearance and multi-functional use aims to bring everyone together, engaging in playfulness and to have fun outdoors.
Lo² is an architecture and civil engineering duo founded by siblings Alcina and Benjamin Lo, recognising the importance of community engagement with cultural heritage in public spaces. Alcina is an RIBA Part 1 completing her year out, and Benjamin is a Civil Engineering student studying at University of Nottingham.
📍Location: Royal Victoria Garden
Hear the designers talk about their bench
---
The Turning Tide by Mvuu, with support from Odace Engineering and ZedWorks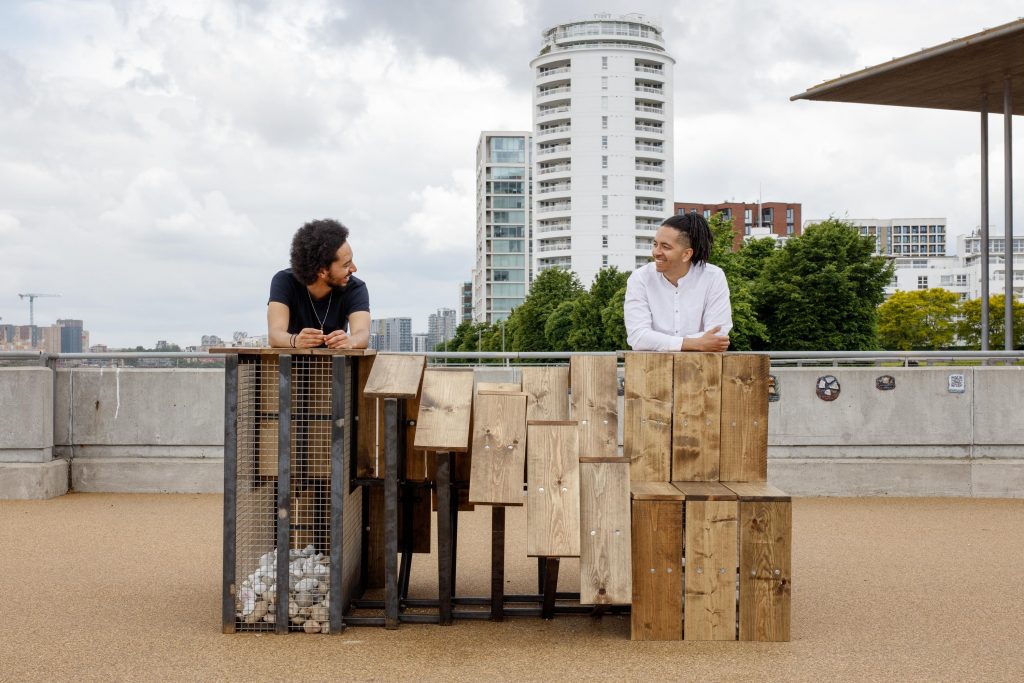 © Luke O'Donovan
The Turning Tide aims to symbolize the forever fluctuating effect that actions cause, with the structure 'shifting' from one state to another. Stones scribed with community messages of climate change anchor down the bench, signifying that action will never be without effect.
Mvuu is a multidisciplinary design group consisting of brothers Toko and Tim Andrews.
📍Location: Thames Barrier Park
Hear the designers talk about their bench
Instagram: @mvuu.studio
Rosa Rogina, Director of the LFA, said: "Working on Pews and Perches is an incredibly exciting and rewarding experience as we offer tangible opportunities to emerging architects and designers to work with councils and gain their first real commission. This year's winning designs are truly impressive, as they all bring a wide range of designs and concepts that embody the LFA 2022 theme of 'act'. I'm looking forward to seeing the public interact with the benches later in the year".