"Despite the incredibly challenging time many have faced during the past two years, we have been overwhelmed by support for LFA as it returns across London at full power with the biggest programme of in-person events this June. LFA remains a city-wide celebration of architecture and city- making, by providing a platform for all to test new ideas and challenge what is, in the hope of creating a better, more inclusive London, for all.
LFA has never felt more timely, with this year's theme 'Act' our organisers have responded passionately with a diverse range of events and activities. From reinterpreting familiar places through to new installations and activations, redesigning public spaces, to workshops which encourage participation and learning, to talks and walks that open the conversation around our city to new audiences, this year's programme reflects not just London now, but a vision of what it could be.
Our mission has always been to celebrate London as a global hub of architecture and reveal the underlying potential of design talent it holds. By temporarily occupying and reshaping London's buildings and public spaces, we hope LFA will generate positive long-lasting change for visitors and residents alike.
I am thrilled to share this year's exceptional programme – with over 400+ events and hundreds of thousands of visitors expected throughout the month – and look forward to reconnecting in person with you and our city. Join us, as we celebrate London and the people who make it, and look forward to an even brighter future". 
Rosa Rogina, Director of LFA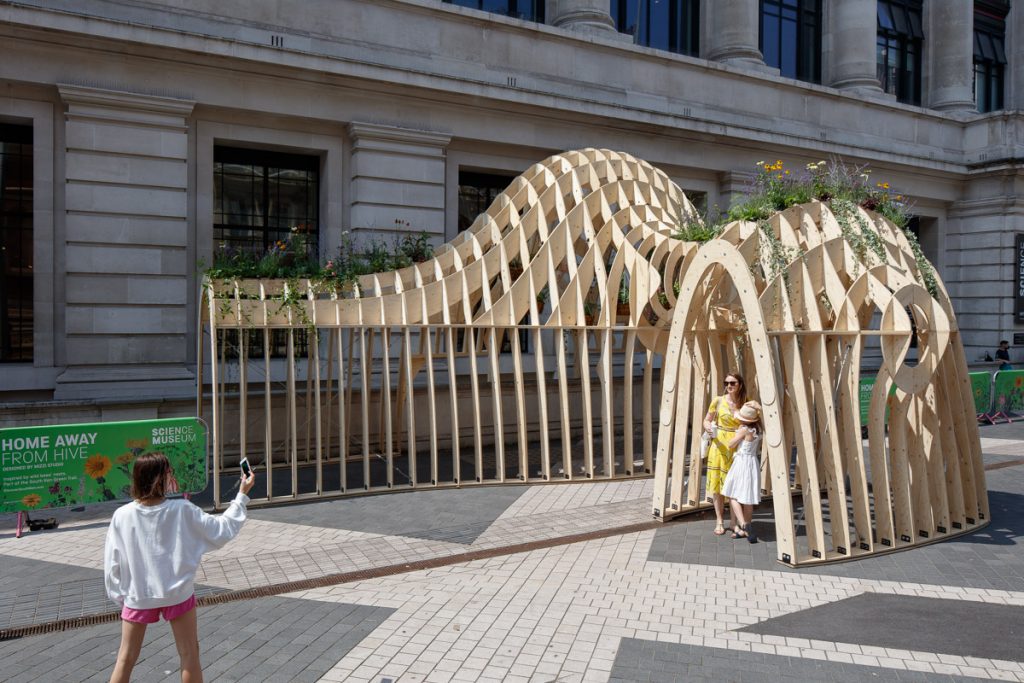 Home Away from Hive by Mizzi Studio, LFA 2021 © Luke O'Donovan
We thrilled to reveal today the 2022 programme of events, which features a diverse and engaging series of public events and installations, aimed at anyone with an interest in London's architecture and spaces that surround us. Returning to London this summer on 1- 30 June, LFA will bring together the public and the profession in a month-long celebration of architecture and city-making. The programme features over 400 events that explore the theme of 'Act' and invite the audience to reflect on how we should act in the face of the climate emergency, social injustice, and the needs of a changing society, as well as how we can act for ourselves, each other, and our cities.
Featuring new specially commissioned installations, talks and debates, performances and tours, workshops, and family events, LFA 2022 sees the return of the festival at full power with the biggest programme of in-person events since 2019. By temporarily reshaping London's public spaces, LFA 2022's visitors are encouraged to interact with the city and take a fresh look at familiar places.
While LFA takes places across London, each year we have several key Destinations where a concentrated hum of activity takes place. Each LFA Destination offers the opportunity to appreciate the architectural quality of the area, while hearing from the local community of professionals and residents alike. 2022 Destinations include the London Borough of Camden, known for its rich cultural and architectural heritage, and history of activism; the City of London, which provides a uniquely rich mix of ancient and modern, with hidden alleyways and tucked-away green spaces; the Royal Docks, which were once our gateway to the world, and today offer an incredible legacy of industrial architecture and enormous opportunities for architects to reflect on our past identity as they redevelop and shape new parts of the area; South Westminster, home to the political 'HQ' of the capital, the buzz of the Strand and hidden oases alongside the majestic river Thames.
LFA 2022 Destinations also include Queen Elizabeth Olympic Park, which this year celebrates the 10 year-anniversary since the London 2012 Olympic Games. LFA 2022 will celebrate the area's creative past, present and future, and showcase different local stories championing creativity and urban innovation at all scales. Alongside LFA activations, New London Architecture (NLA) has launched a six-month residency at Westfield Stratford City around the New London Model, which will act as a hub, introducing and directing visitors towards different outposts in Queen Elizabeth Olympic Park.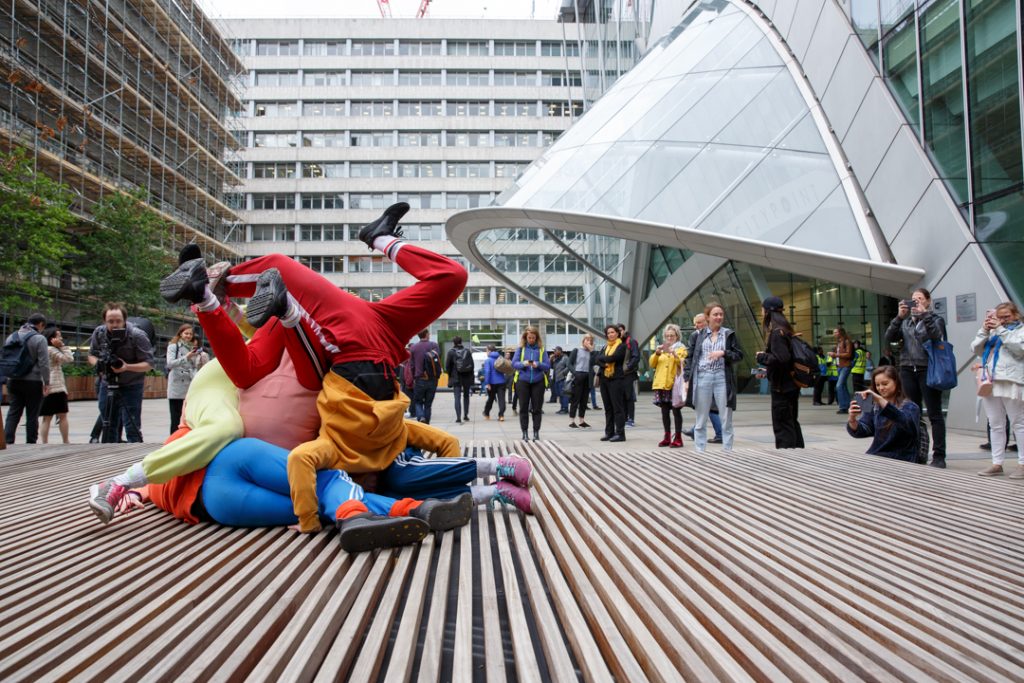 Bodies in Urban Spaces, LFA 2019 © Luke O'Donovan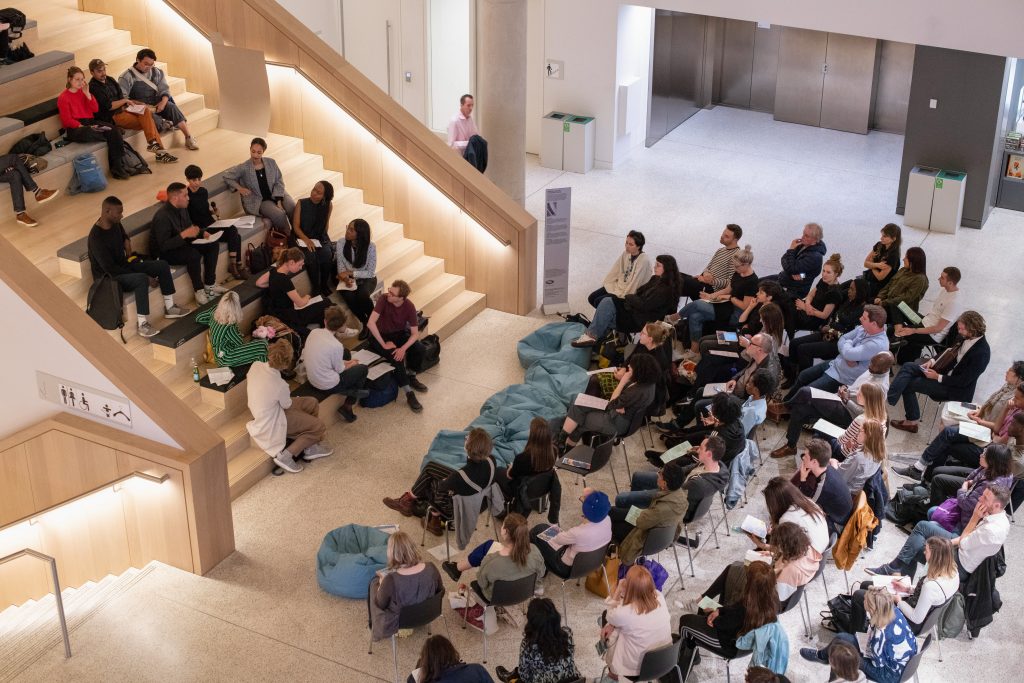 Manifestos, LFA 2019, © London Festival of Architecture
Since 2004, LFA's mission has been to celebrate good design, London as a global hub of architecture and reveal the underlying potential of emerging designers. LFA 2022 will continue acting as a vehicle for change and new ideas to be tested and will see the return of Act: The RA Architecture Symposium and Manifestos: Architecture for a New Generation 2022, in collaboration with our cultural partners.
As well as the events taking place in our destinations, LFA 2022 will see an array of events taking place all over London and online. We cannot wait for June!