"As You're Passing By" exhibition design by Muslim Women in Architecture debuts at Euston Station
A new prototype design for a public exhibition display system for railway stations has been unveiled  at Euston Station as part of this year's LFA.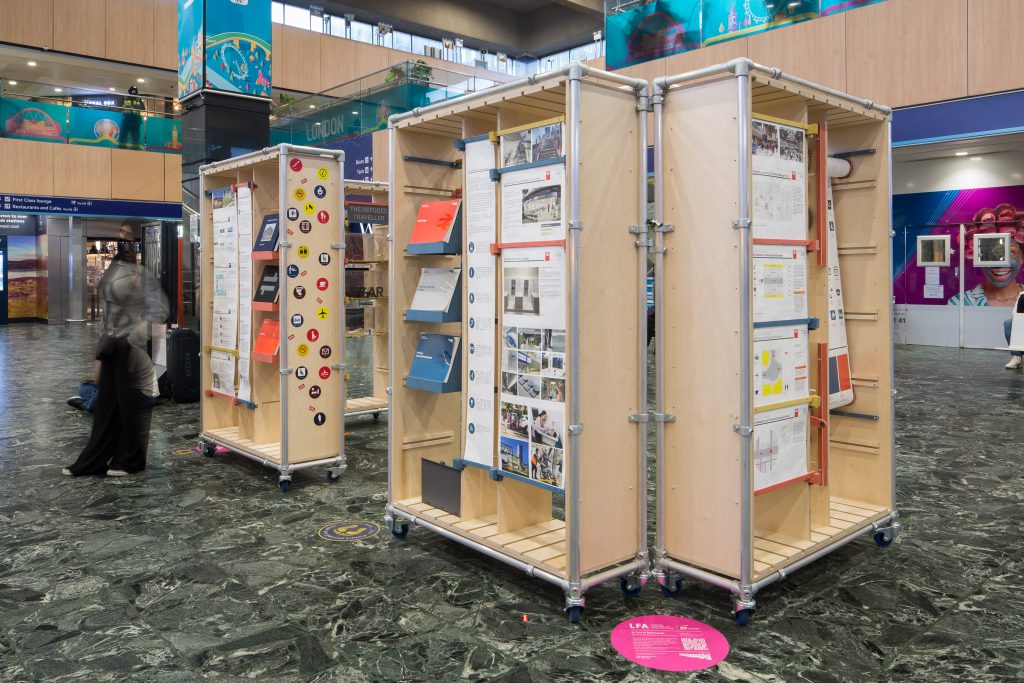 Designed by Muslim Women in Architecture (MWA), "As You're Passing By" showcases Network Rail's Design Guidance Series – a suite of themed documents highlighting design best practice in the railway environment, from station footbridges and subways to wayfinding.
This engaging installation was the winning response to a "Curating Concourses" competition organised by the LFA and Network Rail. The brief invited emerging architects, designers, artists and curators to create a prototype exhibition concept that could enhance station users' experience, encourage people to engage with displayed content, and test the future of exhibitions in stations.
"As You're Passing By" is conceived as a series of mobile 'suitcase' modules, with each featuring two double-sided display panels made of ply sheets which slot together for easy on-site assembly. The panels can be arranged or opened and closed to any desired angles to create more intimate or open spaces, allowing the installation to easily cater for different locations as well as different types of exhibitions in the future.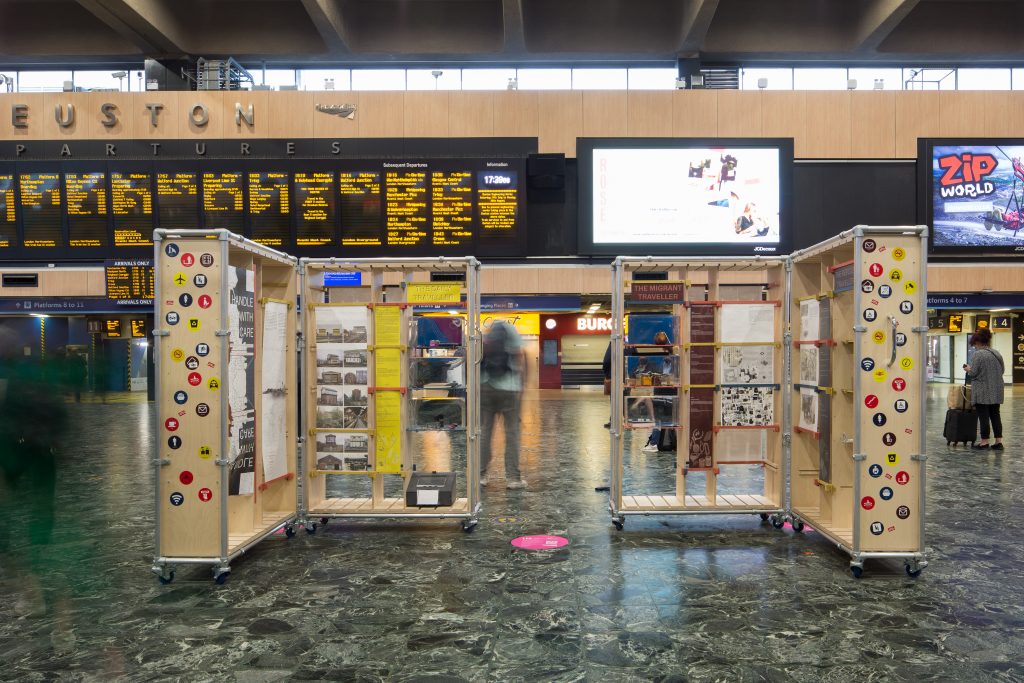 A range of tactile and tech features creates a shared space for learning and engagement that feels accessible and comfortable to visitors of all ages and backgrounds. The exhibition display includes interactive and playful elements such as mirrored panels, a cog mechanism and QR technology to break down key display information, making this easy to see and understand even when passing-by from a distance.
Rosa Rogina (Programme Director at New London Architecture and LFA) said:
"Muslim Women in Architecture's "As You're Passing By" is a fantastic piece of exhibition design, and we're delighted to see it become reality at Euston as part of this year's London Festival of Architecture. It's been a real pleasure to work once again with Network Rail, whose commitment to design excellence and supporting emerging talent is there for all to see at Euston and is encapsulated in this debut exhibition. I hope this inclusive, engaging and charming design will set a benchmark for future public displays."
Joe Hendry, (Head of Route Stations – West Coast South, Network Rail) said:
"We are delighted to host Muslim Women in Architecture's exhibition design at Euston. This installation is a great example of the work we are doing to enhance the passenger experience in stations in an engaging and interactive way. Stations have an important role connecting communities and this display is a fantastic opportunity for passengers to discover how the railway is constantly evolving, putting good design and passenger needs at the heart of what we do every day."
"As You're Passing By" will be on display on the public concourse at Euston Station until Monday 26 July.