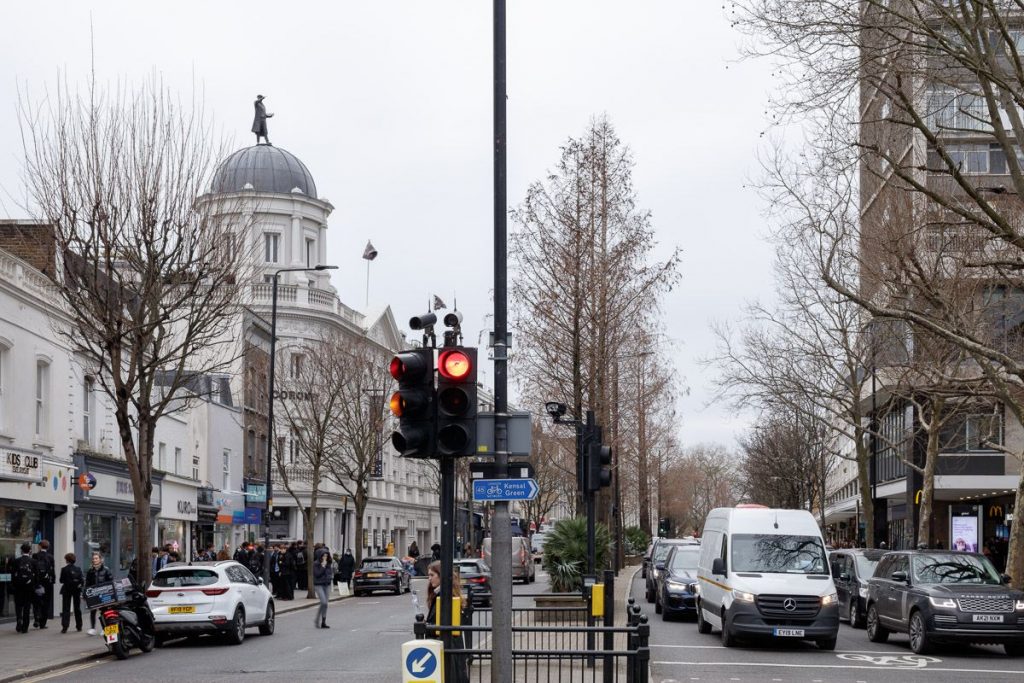 Site of Rediscovering Notting Hill Gate © Luke O'Donovan and London Festival of Architecture
Notting Hill Gate is set to get a refresh as a design competition invites architects, designers and creatives from across London to reimagine public space
Finalists will showcase their designs at an open exhibition in the summer
The innovative new installation could use using seating, greening, lighting, interactive elements or pop-ups to bring vibrancy to the area
Notting Hill Gate is set to get a refresh as part of a design competition inviting creative teams to reimagine innovative and attractive public space on the street.
Kensington and Chelsea Council has commissioned the London Festival of Architecture (LFA) to run the competition which launches today.  As part of the Council's efforts to improve key high street locations in the borough, Notting Hill Gate will benefit from this innovative new investment which could include seating, greening, lighting, interactive elements or pop-ups.
Cllr Catherine Faulks, Lead Member for Economy, Employment and Innovation, said: "To help our high streets reach their full potential, we're always looking for new and innovative ways to improve public spaces. Teaming up with the London Festival of Architecture for this design competition means we can invite ideas from creative minds thinking outside the box to consider imaginative and fun interventions for Notting Hill Gate. Over 17 million people tap in and out of Notting Hill Gate station each year so we want to ensure it's a place people want to stop and spend time, enjoying the shopping, dining and history the area has to offer."
Rosa Rogina, Director of the London Festival of Architecture, said: "It's a fantastic opportunity for the London Festival of Architecture to collaborate with Kensington and Chelsea to enliven the public realm with ambitious regenerative designs. Following the delivery of our 'South Ken Green Trail' competition last summer, we're thrilled to be able to once again harness creative talent to achieve positive change in Notting Hill Gate. I believe this competition is a great opportunity for architects, designers and creatives to showcase their talent in one of London's most important thoroughfares."
The competition is open to teams of architects or landscape architects, designers and artists, and aims to commission a design that celebrates the identity of the area and improves the experience of people visiting, living or working in the Notting Hill Gate area.
Shortlisted design ideas will be displayed in an exhibition in Notting Hill Gate for the public and local community in June 2022 before the final judging in July. The winning design team will be asked to work with the community and Council to develop and implement their vision. Up to six teams will be shortlisted for the competition, with each team receiving an honorarium of £1,500 to develop their proposal. The winning team will be announced in July 2022 and funds of up to £100,000 will be available to develop a fully costed, feasible design that can be delivered at the end of 2022 or early 2023.
Kensington and Chelsea Council has made improving and futureproofing high streets one of their main priorities, in response to changing consumer habits and post-Covid recovery.
The Council's place shaping teams have been working on a number of projects to improve high street including commissioning independent research and consultation with local communities; extending al fresco dining licensing; the permanent pedestrianisation of Portobello Road; adding more greenery on high streets; and introducing seasonal events to Kensington Town Hall Square. The Notting Hill Gate design competition is another innovative initiative aimed to inject life and longevity to a unique high street location in the borough.
To find out more about the design competition and how to apply visit: http://2022.londonfestivalofarchitecture.org/competitions/
Submissions close on 22 March 2022.
View the open call here.