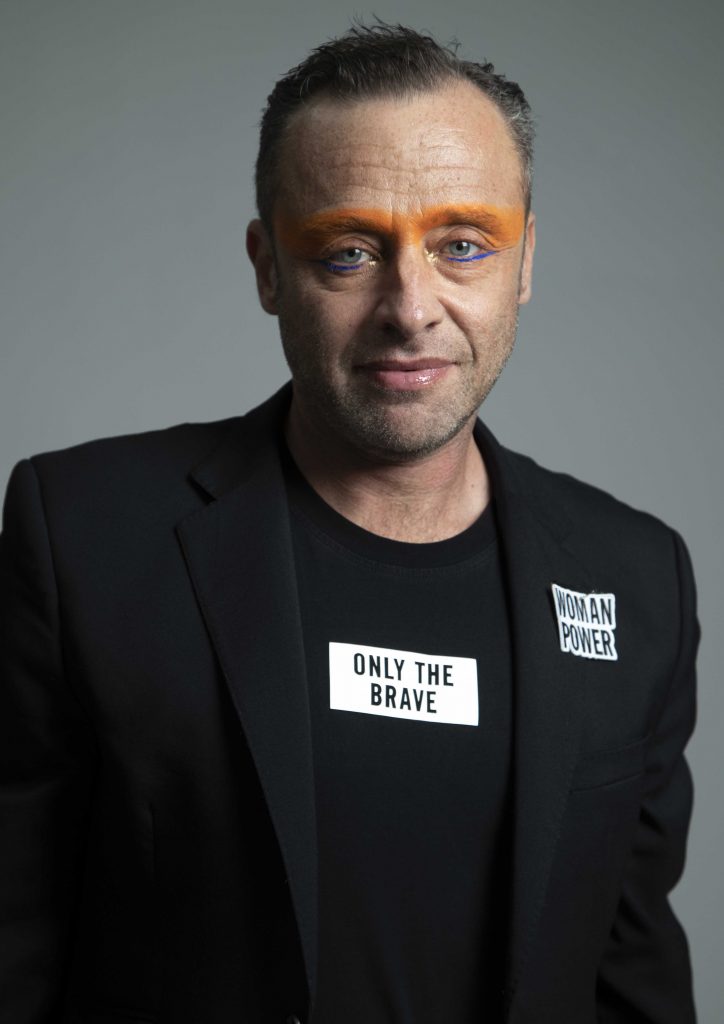 Jeremy Goldstein: 'Truth to Power Café' is an international live performance event reflecting hope, loss and resistance, as participants including myself respond to the question 'who has power over you and what would you like to say to them?' before a live audience, and now online as part of our digital platform.
This year's London Festival of Architecture on the theme of power, offers a unique context for us to think about the question at the heart of project, the impact of the global pandemic on our cities, and what we'd like to see in a post-COVID world.
Last week I caught up with Manijeh Verghese and Madeleine Kessler, founders and directors of UNSCENE Architecture and co-curators of the British Pavilion at the 17th Venice Architecture Biennale, and this is what they had to say.
Tell us about UNSCENE?
Manijeh Verghese and Madeleine Kessler: UNSCENE was founded in 2019 as a practice that operates across disciplines and scales to reveal the unseen forces that shape our cities. We work with local communities to give them greater agency over how they use and occupy their spaces. Providing a platform for design, research, curation, consultation and realisation, we aim to provoke a wider conversation about the city through action rather than just words.
We founded UNSCENE after teaching a number of workshops and summer school units that explored how to open up the city in a variety of ways. We studied together but took different routes within architecture, exploring similar interests through different formats and methods, which has led to interesting forms of collaboration, as well as richer and more nuanced ways of reading the city.
Jeremy: You've been commissioned by the British Council to curate the British Pavilion at the 17th International Architecture Exhibition at la Biennale di Venezia with a work called 'The Garden of Privatised Delights'.  What can we expect to experience, and what do you hope to achieve?
Manijeh and Madeleine: Inspired by Hieronymus Bosch's The Garden of Earthly Delights, our project The Garden of Privatised Delights looks at new models for privatised public space. The exhibition will engage in the current debate around ownership, use and access to what we perceive as public space. We will transform the British Pavilion into a series of immersive spaces, commissioned from leading researchers and practitioners, including The Decorators, Built Works, Studio Polpo, Public Works and vPPR, presenting both a critique of how they are currently used while providing strategies to increase people's agency over their public spaces. Six new models for privatised public space appear as immersive experiences inside the pavilion. Spaces under threat like the youth centre, high street and pub as well as inaccessible enclaves like the garden square, are overlaid with proposals for how they can be reprogrammed and revitalised. Additionally, two new proposals for government ministries call for a bottom-up approach to conversations around the ownership of tangible assets such as land, and intangible assets like our personal data.
Jeremy: What are some of the buildings or projects in the public realm that inspire you the most and why?
Manijeh and Madeleine: There are several projects that inspire us in terms of how they engage the public or draw attention to spaces in the public realm that are otherwise overlooked. In 2018 British artist Stuart Semple created #HostileDesign – a public awareness campaign to identify instances of hostile design in public spaces. He created stickers to label objects such as the armrests on public benches that prevent homeless people from being able to sleep on them as hostile, and encouraged the public to capture and disseminate similar instances on social media. Similarly, Led by Donkeys holds politicians to account by highlighting their "thermonuclear hypocrisy". The group of political activists projects statements that politicians have posted on digital channels onto physical spaces to make both the public and politicians more aware and less likely to forget the views, opinions and positions posted online. Land ownership is another issue in the UK that is very opaque and contentious with only 85% of all land being documented on the Land Registry's website and 5.2 million acres yet to be registered. The ongoing project Who Owns England? by Guy Shrubsole and Anna Powell-Smith uses a forensic approach to map land ownership across the country through searching databases, submitting Freedom of Information Acts and initiating a whole host of investigations.
Projects that activate spaces in the city are also inspirational to us. The successful 2013 Long Live Southbank campaign fought against the Southbank Centre's Festival Wing plans to infill the undercroft area along the river with shops and restaurants. Instead, the survival of the skatepark on that site showed the power of a community to reclaim and preserve the space for use by skateboarders who enrich the life and activity along the riverbank. Going beyond the UK, in Stockholm, White Arkitekter ran a series of workshops titled Places for Girls after their research showed that from the age of eight onwards, 80% of public space users are boys, with girls feeling 10 times more insecure. These workshops gave teenagers the opportunity to design their ideal public spaces on their terms. These examples are just a few of the many local and global projects that we find inspirational to challenge and redesign the public realm.
Jeremy: What would you like to see in a post-COVID world?
Manijeh and Madeleine: Over the past few months we have seen people get to know their neighbours and neighbourhoods in a whole new way. There is a heightened awareness about public space and the importance and need to access it. There is an enormous opportunity to rethink our built environment and make a more equitable and accessible city. We are beginning to see new ways to programme and activate privatised public space to allow people to come together safely, and our hope is that this continues. Pedestrians are reclaiming the pavement, questions are being asked about how parking spaces could be better used as gathering, meeting, or social spaces. Important questions are being asked, such as why aren't more privatised public spaces, such as golf courses and private school playgrounds, open to the public when they are out of use. We have to use this time to see how we can live more sustainable and fairer lifestyles, rather than go back to the way that things were.  And it is now more important than ever that we look to understand how we can save spaces of social exchange and community hubs, such as the pub and the High Street.
As architects we are in a unique position to facilitate conversations between landowners and the general public to develop public/private partnerships that benefit local communities. There are ongoing conversations about privatised public space, but these, all too often, occur in silos.  Design can play a huge part in how a space is used and perceived, but there are also other elements that control space, including ownership, maintenance and legislation. Through the pavilion, we are bringing these different stakeholders together, along with the general public, in order to rethink what privatised public space can be. Our aim is to empower the public to take ownership of their spaces by giving them tools, skills and resources to use and maintain their public spaces. Engaging with the conversation at every scale, from a policy level right the way down to a detail design and maintenance level, has allowed us to rethink what public space can be, and find ways to open up these spaces for all to enjoy.
Our hope is that a post-COVID world will see the public empowered to use their spaces differently and to ask better questions about: who owns them, and how they can access and use them. We would like to see a more adaptable role for the architect – not just as someone who designs and builds – but as a facilitator of conversations that bring people together. How can architects be involved in the more strategic decisions about the city from the earliest stages, in order to influence decisions that manifest in the material detail that people experience?
Jeremy: Is there a time in your life when telling the truth, or standing up for yourself had a memorable impact on you?
Manijeh and Madeleine:  The process of working on the competition for the pavilion and subsequently being selected to curate the British Pavilion has been a journey of discovery and growing self-belief. We entered the competition having always wanted to work together on a design project like this but never imagined we would even be shortlisted, let alone win. Being selected has been a catalyst to set up a practice together and has given us a stronger voice to stand up for what we believe in – that everyone should participate in the making of public spaces. It has given us the opportunity to have a variety of conversations with different decision-makers across the built environment and made us realise the important role that the architect can play to bring people together and facilitate conversations to change how users and inhabitants engage with their cities and spaces.
We designed the pavilion from the outset as a platform to initiate a much wider project and seeing this start to come to life has made us grow in confidence and believe in our abilities to realise complex projects and stand up for what matters. It is often easier to believe in someone else and see them truthfully compared to yourself so we find that working together has given us the opportunity to do that for each other. The journey so far has definitely been challenging but it has also been an exciting and memorable experience that we are constantly learning from.
Jeremy: Who has power over you and what do you want to say to them?
To sign up and have your say in 'Truth to Power Café' live show or digital platform click here.